Competing Mentors Take Focus From Actual Competitors On The Premiere Of NBC's 'The Voice' (Videos)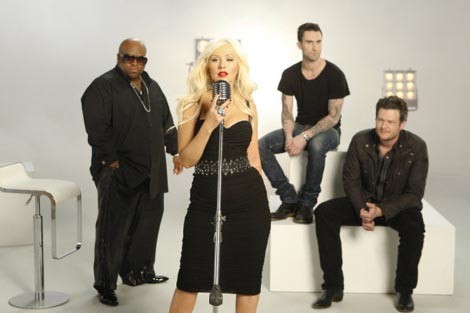 NBC's highly promoted new talent show The Voice premiered Tuesday night and despite some amazing voices and performances the first episode seemed to be all about the celebrity voice coaches and not so much the performers themselves.
The four stars of the show - Christina Aguilera, Cee Lo Green, Blake Shelton and Maroon 5 singer Adam Levine - spent most of the night competing with each other over who gets to mentor which singers; and, unfortunately, this took most of the focus from the actual performances. If more than one coach showed interest in working with a singer they then argued over who would wanted the singer on their team more and then the singer ultimately chose who they wanted to work with. And this happened for almost everyone except a New Jersey mom (who was two parts Real Housewives of New Jersey and one part Snooki) who got no votes from the judges and thus went home.

But rest assured, this only goes on for the first two episodes of the show, and then things get all Survivor-like (after all, the show's producer is Mark Burnett). While the initial two shows focus on the stars picking their teams and expressing how much they want to win this whole thing (wait, isn't one of the contestants supposed to win?), the next shows involve members of each mentor's team duking it out in the ring - yes, they actually showed what looks like a souped up boxing ring where contestants will go head to head and each coach will whittle their team down to just four members before actually doing any "coaching."

Only time will tell if the show will work - it was entertaining at times, a little boring at others, and way too over-the-top during some parts - especially after each coach had a member or two on their team except Adam and commercial break recaps tried to make us all thing 'OMG! Adam isn't going to get anyone on his team! EVER!'

Oh, and host Carson Daly was like Ryan Seacrest on quaaludes. James Franco at the Oscars anyone?

Check out highlights from last night's show below! Did you watch? What did you think? Leave us a comment below!

Vicci Martinez Audition: "Rolling in the Deep"




Frenchie Davis Audition: "I Kissed a Girl"




Jeff Jenkins Audition: "Bless the Broken Road"




Javier Colon Audition: "Time After Time"




Patrick Thomas Audition: "Live Like You Were Dying"




Tarralyn Ramsey Audition: "Breathe"




Kelsey Rey Audition: "American Boy"




Elenowen Audition: "Falling Slowly"




Beverly McClellan Audition: "Piece of My Heart"




Rebecca Loebe Audition: "Come as You Are"




Tje Austin: "Just The Way You Are"




Xenia Audition: "Breakeven"




Watch the entire episode at NBC.com.