'Community' Recap:'Home Economics'

After a nearly perfect Halloween episode, this week's
Community
feels like a bit of a let down. Jeff appears topless right away, revealing himself to be living out of his car. Again, this show continues to mime the various aspects of the community college experience, this time the compromises one makes with his pride. Jeff still wants to be a superficial lawyer with a lavish condo and a Lexus, but in order to become a real person, someone Britta would date, he'll have to set his sights lower.
He moves into Abed's dorm (yes, some larger community colleges have dorms), where he learns the simple pleasures of eating Lucky Charms and watching
The Jeffersons
on the couch all day.
Jeff gets thrifty, excitedly telling Britta he only spent a quarter all day. Abed, who desires nothing more in life than the comforts of a dorm, notices Jeff deteriorating in this environment, even missing class for a
Knight Rider
marathon.
He asks Britta to help Jeff get out of his funk by using "her lady parts," or promising him she'll sleep with him once he has a decent place to live. This works to an extent, but feels a little shoehorned. No matter, the secondary plotlines are strong enough to carry this episode.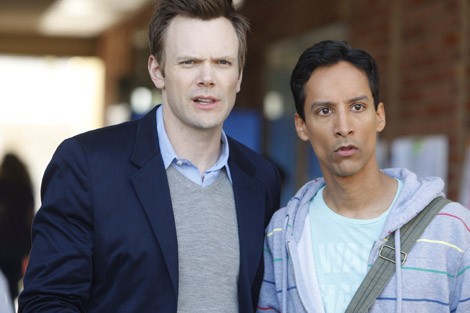 The hilarious
Eric Christian Olsen
reappears as Vaughn, who won't accept Britta's attempt to smooth things over after she scorned him. Pierce tries to talk some sense into him against Britta's wishes, but only accomplishes to join Vaughn's band.
One of this show's strengths is allowing Pierce to indulge his every whim, and his involvement with the
Jack Johnson
-esque jamband does not disappoint. Whether he's getting stuck behind a cage of keyboards or paying homage to Chase's former
Steely Dan
bandmate
Donald Fagen
, the character works best at large among the periphery.
Together, Vaughn and Pierce write a song with the triumphant chorus "I got ridda Britta, she's a B!" Of course, Pierce is kicked out of the band, replaced by a rapper who deals mostly in "poo" and "pee" on the band's less creative followup diss track, "Pierce is a B," during which Pierce creeps on young girls, saying "I'm Pierce. I'm a B."
Annie and Troy's tension builds, as the cocky and oblivious Troy asks her to help him prepare for his date with Randy, who he assures her is "also a girl's name." Rather than tell him how she feels, Annie goes passive aggressive, feigning appendicitis.
Patton Oswalt
makes a cameo as the on-campus male nurse, passing Troy a strip of condoms for his date, and as he takes them, running out the door he gestures to Annie, "I'll be thinking of you!"
As the show begins to build a stellar stable of recurring guest spots, promise still remains high. Writers need to incorporate Shirley more, since everyone else' back-story seems more defined. Nothing could live up to last week's episode, but no one is expecting that.
Story by
Matt Anaya
Starpulse contributing writer
Twitter.com/shmattshmanaya
Image © NBC Photos