'Community' Recap: 'The Science Of Illusion'

Two things Community does better than any show on television right now are holiday themed episodes and elaborate pop culture references. In tonight's episode, "The Science of Illusion," the writers reached new highs in both.
The episode begins with Dean Pelton reminding his students to keep April Fools' Day pranks safe and racially sensitive, via announcements and pamphlets. During this time of "heightened shenanigans," the school deputizes student security guards, an opportunity seized by Shirley and Annie, as well as Abed, who insists on watching and directing their buddy-cop comedy.
Winger, a natural prankster, tricks Pierce into wearing a wizard's robe borrowed from the theater department, a garment Pierce believes is the traditional vestment of a level six Buddhist, something no one in his "hive" has yet achieved, while Britta plans to prank Sr. Chang by stealing a frog from the Science lab, slap a sombrero on it, and leave it on his desk. She only divulges this plan to Jeff, who doesn't think she is capable of such mischief.
A dimly lit scene set with suspenseful original music finds Britta in flattering light, crawling on all fours looking for the escaped frog. She gets startled and knocks into a guerney, and as she tries to steady it, a cadaver slips from its vinyl bag out the window and onto the lawn, and she squashes the frog. Mr. Show alum Jay Johnson turns up as a police officer (obviously) investigating the crime, which he promptly hands off to the student security team. Annie and Shirley, at Abed's prompting, are amid a good cop/bad cop power vaccuum, and constantly fight over who is more bad-ass. Annie takes the lead with "They call me psycho because I had a nervous breakdown in high school and my partner's a Christian housewife."
Britta tries to frame Jeff, and in hot pursuit of the suspect, Annie sprays a can of mace into her own face. When Dean Pelton fails to live up to Abed's standard of the ornery police chief, he takes over and falls into a grizzled black cop with sciatica and takes them off the case. In true buddy cop fashion, they confront Winger, working together as badasses as Annie repeatedly slams Jeff's head on the table and Shirley goes at his jugular with a pizza cutter.
The second or third plotline involves Jeff and Troy giving Pierce a magic wand with a cookie on the end. He begins to believe he is psychic, though when he tries to read Jeff's mind all he uncovers is anonymous gay sex. Starburns refers to him as "Cookie Crisp," a reference lost on me and viewers younger than I, who remember the Cookie Crisp mascots as a burglar and a dog.
As Britta comes to grips with her buzzkill ways, Annie and Shirley realize they're not cut out for bad-ass police work, and Troy admits he was just pretending he knew about Cookie Crisp's old wizard mascot so the older guys (Jeff and Starburns) would think he's cool. Pierce fesses up to not really being a psychic and the five of them share a cry as Abed and Jeff look on. The scene would hardly be climactic if Troy didn't explain the elaborate wizard costume reference that was already hilarious and ridiculous even before I understood it.
I worry show will have trouble repeating Halloween, Christmas, and Valentine's Day episodes in the recently announced second season. Though, these holidays happen every year in real life, and friends are always outdoing themselves with more creative hijinx. As this season winds down, I'm already starting to miss it, though expectations are high for season two, and who knows, maybe we'll get to see them off-campus.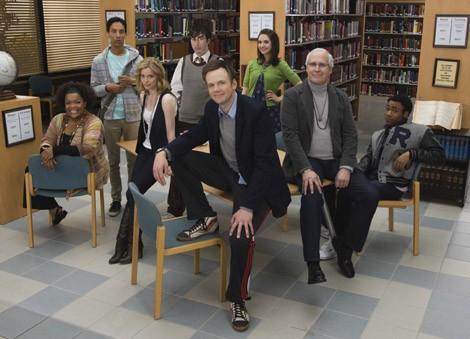 Story by Matt Anaya
Starpulse contributing writer Twitter.com/shmattshmanaya