'Community' Recap: 'Social Psychology'

NBC wasn't lying when they advertised
Community
as a hit before audiences had even seen it. Three episodes in, it already has the buzz to secure a second season. In each episode, writers have found clever ways of allowing the talented ensemble cast to pair off and interact, revealing more about each character. The thirteen episodes of this season will likely color in these characters as the major and minor romantic plotlines flesh out.
This week, Jeff finds himself in the "girlfriend" zone trying to be cool as Britta tells him about her new boyfriend, Vaughn, a hackey-sacking hippie with a penchant for taking his shirt off and supporting the benefits of green tea over coffee. Jeff finds solace by sharing his feelings for Britta and snarky gossip soup with Shirley (
Yvette Nicole Brown
) while walking across campus, riffing on students they pass, especially Vaughn.
Joel McHale
and Yvette Nicole Brown were well within their wheelhouse in those scenes. Played masterfully by
Eric Christian Olsen
, the young Lloyd Christmas from
Dumb and Dumberer
, Vaughn is the classic community college stoner, a dude with enough annoying quirks to tease behind his back while audiences still remain sympathetic to him.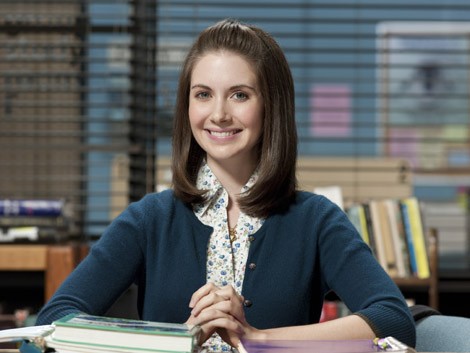 John Oliver
makes his return this week as Dr. Ian Duncan, a Brit conducting a psychological research course Annie, played by
Alison Brie
, desperately wants to take. After telling her she's an 8, Dr. Duncan allows her to take the course so long as she brings two human subjects. She recruits the jock Troy and the quirky Persian Abed (breakout roles for Donald Glover and Danny Pudi), the experiment a test in patience as the subjects are continually told the experiment will begin in five minutes.
During the experiment,
Ken Jeong
's Chang has another over the top freakout and Dr. Duncan throws the best tantrum when his theory doesn't apply to the Abed after 26 hours, his British accent lending to a predictable but funny Mark David Chapman reference!
Audiences get to see Annie disheveled and upset, which, along with Oliver calling her "a 10 in Britain" and a couple cute costume changes will likely lead young men to develop a secondary funny-girl crush on her.
Pierce Hawthorne (
Chevy Chase
) hung around just at the edge of nearly every shot with his new gadget, a companion piece to his Bluetooth called the Earnocular.He chose to confront everyone at their Spanish study group, though the Earnocular (or his comprehension skills) proved unreliable, because he'd misheard and misinterpreted what they were talking about.
This led to Vaughn breaking up with Britta, prompting her and Jeff to set "friend" boundaries. Oh yeah, and busybody Shirley (who looked great in the sunny outdoor scenes) told Jeff that Britta had a sex dream about him, so he's still got a chance. Ugh.
Story by
Matt Anaya
Starpulse contributing writer
Twitter.com/shmattshmanaya
Image © NBC Photos