'Community' Recap: Advanced Gay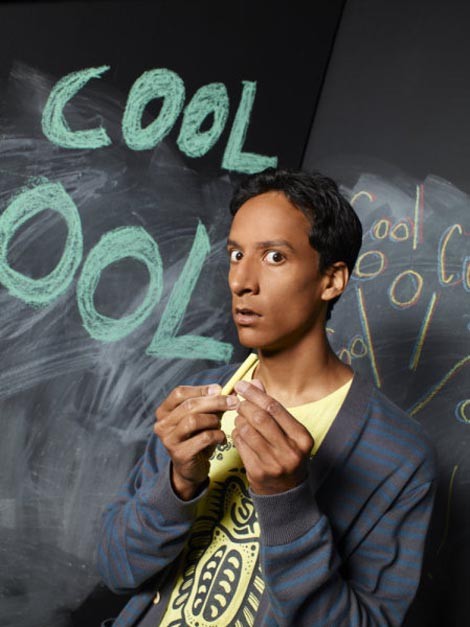 This week, "Community" returned to the standard sitcom narrative style after the strange (but brilliant) digressions of "Remedial Chaos Theory" and "Horror Fiction in Seven Spooky Steps." In "Advanced Gay," a terrifically tongue-in-cheek title, the "Community" crew somehow finds a way to jam several different storylines into one 22-minute episode. 
The episode opens in the cafeteria with a continuation of the Troy-as-a-"Good-Will-Hunting"-like-plumbing-genius story that has been brewing since early last season. After helping one of the janitors with a problem pipe, he is told that he has a gift that he should use only for good but Troy wants to do something more "awesome" with his life than being a plumber. 
Back at the group's lunch table, Pierce is approached by two gay students who ask him to autograph a pack of Hawthorne Wipes. Of course, Pierce doesn't know that they're gay at first (his hand gesture for "gay" is absolutely hilarious), but he's just happy his product is appreciated. Abed quickly gets online and finds a YouTube music video about Hawthorne Wipes and how they are great for drag queens wanting to conceal their man parts. Pierce is furious and threatens to take them to court. 
Of course, Pierce's anger turns to joy when he realizes that the gay community's support of Hawthorne Wipes has greatly increased the company's revenue. Even though he's not thrilled with the demographic of his new loyal customers, he does his best to make do by demonstrating a proto-type for a new product which promises to be "gayer." He also decides to throw a "gay bash" to celebrate. Oh, Pierce. 
Later, Troy is fixing toilets with the janitor when one of the goons from the Air Conditioning Repair School expresses an interest in Troy. The janitor tells Troy that he can't go over to the dark side (or Dark Side, get it?) of air-conditioning repair. Before Troy can think about it too long, though, he is kidnapped and brought to the Air Conditioning Repair Annex for the initiation ceremony which is being presided over by Vice Dean Laybourne. Laybourne's brilliantly crafted secret ceremony is one of the series' funniest scenes. 
Back I the library, Pierce's father, Cornelius Hawthorne (Larry Cedar), shows up and is unpleased with Pierce's choice of friends who he brushes off as minorities, Jewesses and the unseasonably tanned. Pierce announces that his father disapproves of the gay community's support of their product and that Hawthorne Wipes will distance itself from that population. Pierce then cancels the gay bash.
Jeff decides to keep the party scheduled and when Pierce finds out that he's the guest of honor, what else can he do but enjoy it? When his father appears, Pierce relents and says he wants no part of the festivities. When Jeff tells off Pierce's father, Cornelius has a heart attack and drops dead.
While at the funeral, Troy is approached by Vice Dean Laybourne and told that he must make a decision. Troy tells him that he isn't ready to make a decision and that right now he just wants to watch TV with his friend Abed. Laybourne tells him he is making a mistake, but Troy is unfazed.
"Advanced Gay" is a great return to form for "Community." The scene in which Laybourne brings Troy to the room where room temperature is calibrated is one of Donald Glover's best scenes of the series. We also get a lot more about Jeff's daddy issues and rumor is that we might finally meet Mr. Winger later this season.