'Community' Co-Stars Talk Season 2 and Chemistry 101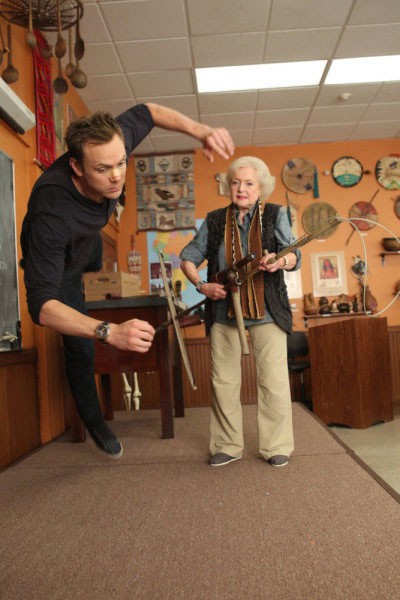 Before tuning in for the premiere of "Community" this Thursday on NBC, we were lucky enough to chat with co-stars Joel McHale and Alison Brie about going back to school for a sophomore season and all the crazy chemistry on the set of their hilarious hit comedy.
Fan favorites, Joel McHale and Alison Brie play the study group's de facto leader, Jeff Winger, and its most studious pupil, Annie Edison. After their characters shared an unexpected kiss in a mid-season episode, the blogosphere was buzzing about the pair's great chemistry. However, their romantic reunion on the season finale was decidedly more divisive.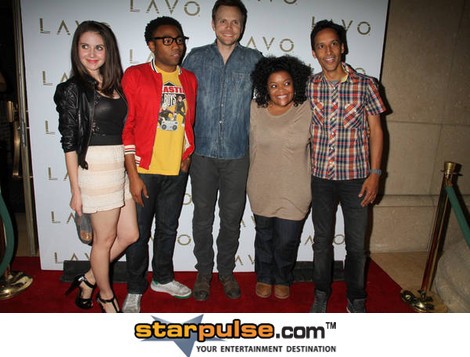 "I thought it was interesting, the difference of the fan reaction from our first kiss after the eighth episode to our kiss to the finale, because after the first time we kissed, fans really embraced it," Ms Brie tells us, admitting she didn't foresee the uproar over the characters age difference inspiring such strong reactions.
Though the actors are actually closer in age, on the show, Jeff is nearly twice as old as 18-year-old college freshman, Annie. The premiere of season 2 will directly address what happened between the characters last year and Joel McHale couldn't be happier about it. He tells us, "I'm very happy that they didn't shy away from it and they just went head-on into the issues, and I think there was even a line in the show that says, 'real life is not like TV, it's messy.'"
Regardless of what happens to Annie and Jeff, Alison Brie still thinks that Jeff Winger has better long-term potential than her other TV paramour, Pete Campbell. The actress who portrays Mrs. Trudy Campbell on the Emmy Award winning drama, "Mad Men" explains, "We have yet to see [Jeff] as a long-term love interest. So there's potential there still. However we've seen Pete Campbell and how he is as a long-term love interest and he's terrible. He's a terrible husband…  I think Jeff actually wouldn't be as philandering. I think when he has a girlfriend, he's faithful." Harsh words for her TV hubby but encouraging for the still maturing, Jeff Winger.
On the other hand, when compared with the guy who brings the character to life, Jeff Winger falls short. As a long term love interest, the married Joel McHale has lived up to his leading man potential, and as his co-star says, "He's a stand up guy. He's not as much of a jerk as Jeff and he's got himself figured out. He's a little more successful."
He also brought his wife to the set of "Community" to watch the incomparable Betty White in action. Jeff Winger would be hard pressed to find a gesture that tops that one.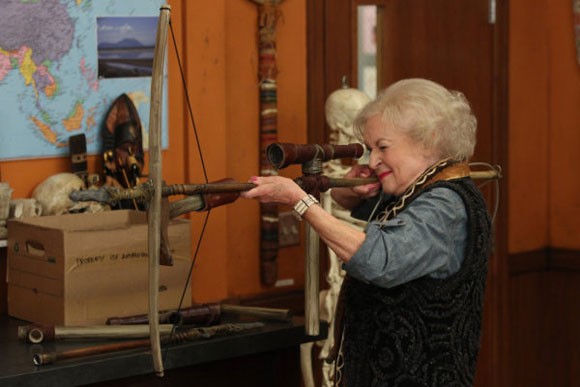 Speaking of Ms White, there was a lot of love for the great dame of TV comedy. "You couldn't not fall in love with her. She's the sweetest woman in the world," Brie tells us.
Without missing a beat, McHale jumps in and says, "She needs to write a book on how to operate on a set. She's just so professional and so sweet, so polite and just nails her lines. She's 88 and she just is great. Really funny."
If Mr. McHale sounds like he had a strong connection with America's sweetheart, there's a good reason.
"Well, I had the most sex scenes with her," McHale shares.
"It's true. I think she and Joel really heated up the set," confirms Brie, adding that the couple's chemistry wasn't limited to their scenes together. "Even off camera I think everything sort of clicked."
We'll get to see the unlikely lovers' on-screen chemistry up close on the season premiere of "Community" this Thursday, September 23rd at 8PM ET on NBC. Tune in and let us know what you think!