Common Lands Original Work From Maya Angelou For Album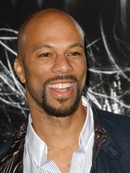 Rapper Common is still pinching himself after celebrated writer Maya Angelou agreed to write a special poem for his upcoming album.

The hip-hop star befriended Pulitzer Prize nominee Angelou at a fundraiser he was organising after she stepped in as a guest speaker at the last minute - and he decided to turn to the veteran poet/author once again when he was putting together his new project, The Dreamer, The Believer.

He tells TheBoombox.com, "It's incredible! I met Maya Angelou, it was (at) a benefit I was doing for this foundation... this poet that was supposed to do it (fundraiser) he didn't do it, so my mother told somebody who worked on my team, 'Why don't we see if we can get in touch with Maya Angelou?' And then out of nowhere she (Angelou) was like, 'OK, I'll do it.' So she did it and we've been cool ever since."