Comic Con Spotlight On 'Moonlight'

The IGN theater at New York City Comic Con was bursting on Sunday, April 20, with two kinds of people: Those who were there to talk about "
Moonlight
" and those who were waiting for it to be over for "
Harold & Kumar
." It was clear to see the difference between the two by the sounds of screams in the air when a 12-minute clip show of the new vampire series was shown.
Although still in its first season, "Moonlight" has already managed to secure a group of loyal and intense fans, which is not unexpected for a show romanticizing vampires and the paranormal. The once beloved
Joss Whedon
show "
Angel
" comes to mind of a similar strong fanbase. It involved a vampire detective in Los Angeles who wished to be human and was turned against his will by a beautiful woman. There is also that forbidden love element, where the main character believes he should not risk loving a human woman because of the monster he is, yet "Angel" was hardly the first to do this either, so "Moonlight" is merely stepping onto a popular path.
The show stars
Alex O'Loughlin
as Mick St. John, the vampire who investigates murders and handles supernatural situations for LA. He was turned by his wife Coraline (
Shannyn Sossamon
) on the night of their wedding and never knew what she truly was. Years later, Coraline kidnaps a little girl named Beth and to save the girl he kills his former love. In the pilot episode, Mick finds Beth (
Sophia Myles
) grown up as a TV news reporter, and he has been watching over her since the kidnapping. He falls in love with her and eventually she is let in on his secret. Mick's best friend is a fellow vampire, a world weary but young faced Josef (
Jason Dohring
) who gives him advice and often encourages him to accept what he is.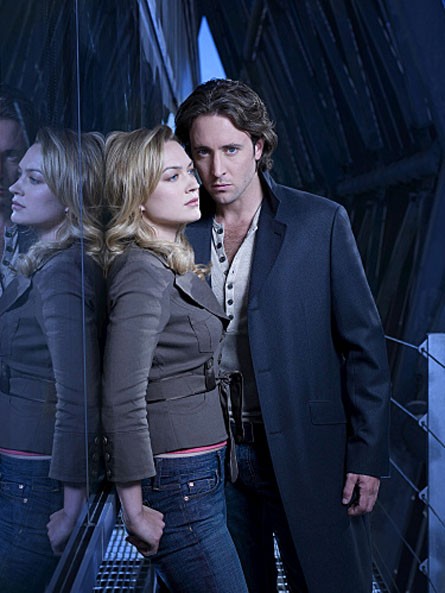 Before the strike, the show revealed Coraline returning as a human woman, and she has found a 'cure' of sorts. She uses it to lure Mick back to her and tells him about a powerful vampire family from the French Revolution that she turns out to be a part of. Mick takes the cure and is now effectively human.
At the "Moonlight" panel, both Alex O'Loughlin and Jason Dohring were present to answer questions for the wildly excited fans in the audience. O'Loughlin, a native of Australian, is a charming and amicable man and enjoyed teasing his shyer co-star Dohring. Both men appeared to be completely comfortable with one another, and their first remark was joking about the possible shipper romance between Josef and Mick. In the preview moments before, there was a slightly suggestive scene where the two embrace, and the actors admit when they saw it they both were a little surprised and amused with how it appeared.
Questions ranged anywhere from the simple and strange - asking O'Loughlin what color his eyes are - to the most important subject of renewal for the show. While no answer has been given by CBS about "Moonlight," O'Loughlin said he felt the show would be renewed, if for no other reason than the lack of new shows being prepared due to the writers' strike. That may indeed be the luck of the draw for "Moonlight" and could give them a second chance at drawing in a larger audience.
While the fanbase is intensely loyal, it could follow the same fate of shows like "
The 4400
" or "
Jericho
" when the ratings just do not give the studio enough reason to keep them. They seemed hopeful at least, and since four more episodes will be showing before the official end of the season, "Moonlight" does have a chance to shine.
O'Loughlin did reveal that Mick and Beth will be consummating their relationship, although he stammered around the answer for several minutes. Dohring teased his co-worker and helped the fans press for a more direct answer. When asked if they would ever want to be vampires, both said that they would, but O'Loughlin would miss food, and Dohring would miss his family ("Awwww...,"said the crowd). It was a very warm panel, with plenty of teasing and laughter in between questions. And who knows, they may have gained a few more interested viewers in the crowd waiting for "Harold & Kumar."
The newest episode of "Moonlight" will be airing tonight, April 25, at 9 pm on CBS.
Story by
Chelsea 'Dee' Doyle
Starpulse contributing writer