Comic Con Movie Sneak Peek: 'Wanted,' 'Hellboy 2' & More
"
Hellboy 2: The Golden Army
": Expect Tons Of Fighting!
Directly after the "Wanted" preview, the "Hellboy 2" panel began.
Guillermo Del Toro
, Mike Mignolia,
Ron Perlman
,
Selma Blair
,
Doug Jones
, and a few unknown faces came in to excited applause. Once the official trailer was shown, the lights came up and the entire stage was full of people in some of Del Toro's trademark monster costumes. They looked completely incredible and unique in his grotesque fashion. Del Toro has to be one of the most amusing men I have ever seen in person, and despite his constant swearing and broken English (or perhaps because of it), he had the audience constantly laughing. The cast discussed the new movie briefly, but most of the panel itself was made up of questions about Del Toro and Mignolia discussing the movies compared to his comic books.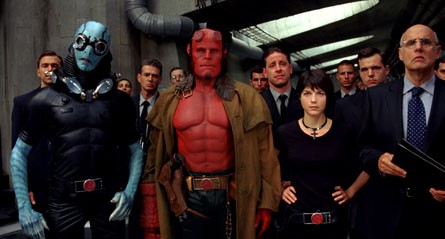 Now "Hellboy" is an extraordinary comic begun by Mignolia in 1993 and published by Dark Horse Comics. Hellboy was brought to Earth by Nazi occultists, and he is considered in the comics to be the number-one paranormal investigator in the world. He is a dry humored brawler with a world weary attitude and works for the government to handle the supernatural problems that crop up from time to time. His partners, Liz the pyromaniac and Abe Sabien the strange amphibian psychic, were both represented in the first film and return for the second. They have added a character from the comics, Johann Krauss, to the team in "Hellboy II."
There are several differences between the movies and the comics, but they are easily forgiven by fans due to Mignolia's touch upon the screenplays and Del Toro's respect for the original material. Mignolia confessed that sometimes on set he would say, "Wow, that's just like my comic book," and they had to remind him that it was, in fact, his book. Del Toro answered questions and revealed that he likes to hire people from comic cons to work on his movies, and you can be sure several audience members shrieked in excitement. He also discussed his hatred for lazy CGI and how he would rather have real costumes - like the ones on stage - than be sloppy.
Very little about the real movie was discussed, but the general plot is that the supernatural world wants to take Earth back from the humans, and Hellboy is there to stop them from basically annihilating all human life. Liz and Hellboy are having personal problems with their relationship, and he quickly bumps heads with their new member Johann Krauss. Also, Abe falls for an Elven (I think) priestess, and there is a lot of fighting. This is what the trailer indicates, but Del Toro and Mignolia no doubt have a lot of surprises ahead for us. This movie comes out July 11.