Comic Con Diary From the Geek Side

Fellow Starpulse writer Michael Ryan may have lost his
Comic Con virginity
in New York City earlier this month, but mine was officially taken at age 10 when I attended my first con. This world of geekdom that so frightens the mainstream public is slowly being translated into "normal," and the attendance of celebrities, big publishing houses, and large studios at the Con gained the notice of the every day person who doesn't know Hal Jordan from Alan Scott. I, along with my photographer friend Lylianne, frolicked among my people for a fun-filled weekend.
SATURDAY
10:15 am
- Arrive at the convention center, and I am shocked to find that most of the main hall is empty. Am I at the wrong place? Then I walk by movie Wolverine poking Spider-Man with fake claws, and a female Indiana Jones is chewing on a pretzel nearby. I am home at last!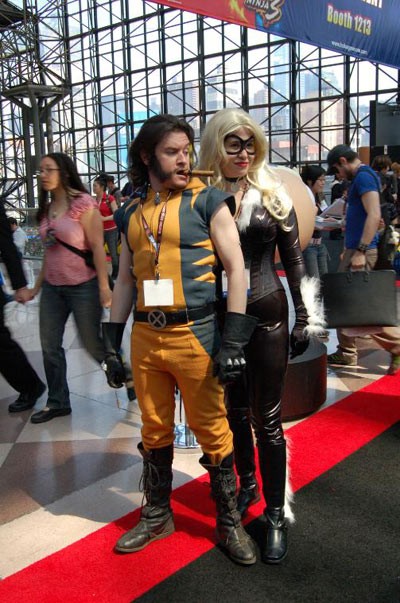 10:30-11:45
- I am given so many free things that I end up needing a giant bag just to put them all in. I am uncertain what half of them are, but I saw at least two
Buffy
posters and all is right with the world. There is also hand sanitizer. Huh? I meet up with other Starpulse writer Mike Ryan, who looks a little overwhelmed. While talking to him, a person in a giant Ugly Doll comes up behind me, and I scream. Everyone laughs like the jerks they are.
12:00-12:45
- The DCU panel is about the upcoming year for DC Comics and their giant storyline Final Crisis. Grant Morrison, a very well known Scottish comic writer, teases us about saying goodbye to Batman. It is well known gossip that they intend to kill Batman. The little girl inside of me with the Batgirl costume cries her heart out, but I remind myself that no one stays dead in comics.
12:45-2:15
- The line outside of the IGN Theater for the Lucas Arts panel is insanely long. The BSG people inside scream 'SO SAY WE ALL.' No one will be let in until the BSG people come out. Mike Ryan texts to say he snuck in with his press pass. I hate Mike Ryan a little. Eventually I am inside and comfortably seated when they show off the new "
Star Wars
" video game. They show the "Clone Wars" animated show preview as well as the "
Indiana Jones and the Kingdom of the Crystal Skull
" movie trailer and the Lego game coming out for it. It's all kind of boring. Then
Seth Green
comes on the stage, and nothing else matters. They say he is single. This means there is still hope!
2:30-4:30
- The "
Wanted
" panel begins, and the director barely speaks any English which means he does not understand any of the questions asked. Or perhaps he is playing dumb. Next we have "
Hellboy 2
," and the cast comes up with
Guillermo Del Toro
. He is a squat Mexican man that swears every other word, and we're all laughing. He says he hates 'sloppy f**king CGI' and the audience goes wild. The entire movie should just be Del Toro talking.
5:00
- I attempt to get into the "
Robot Chicken
" panel to see more Seth Green. All of the rooms are shut down due to the high level of people attempting to get in. The fire department may be called. Three thousand people tried to get into "Venture Brothers" and there were only a few hundred seats. No one can move downstairs, and I am very aware that the fable about fanboys never showering is correct. Ew. I give up on the panel and go back to the main hall.
5:30
- My photographer and I stalk a person in a Chewbacca costume. This person also had a voice box inside the costume that made Chewie noises. The booth for some barbarian movie coming out begged him to hang with them, because everyone kept walking up to get pictures. We get one with him too, and he curls me up in a gigantic arm. I feel like a Hobbit.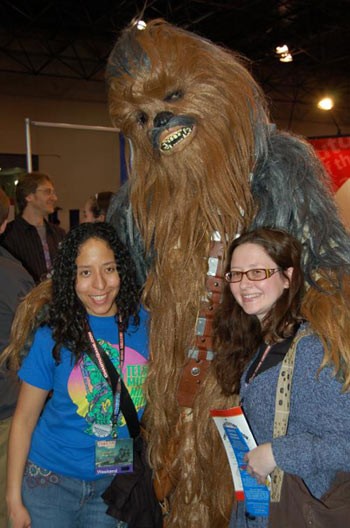 7:00
- Spotlight on Gail Simone, the most well known female writer for DC. She is now writing for "Wonder Woman" and is amazing. She will be writing "Secret Six" and promises it will be the ballsiest comic out there … while being written by two women. My XX chromosomes are very proud.
8:00
- White Castle with friends and a sneak peek at Wii Mario Kart. Diagnosis: Awesome, but I still fear the rainbow level.
SUNDAY
10:45
- I arrive and go straight to the IGN Theater for "
Moonlight
." There is a very long line, but half of them are for "
Harold & Kumar 2
."
Kal Penn
walks right by, and no one notices but me until he's almost gone, and then the screams stop. Too late, Luthor. I get more than a little fangirlish when
Jason Dohring
from "
Veronica Mars
" comes on the stage, but all the "Moonlight" fans are swooning over the Australian guy. A woman tosses a child up from the audience when they ask if a baby is crying. Both seem very startled and possibly a little scared.
11:45
- Preview is shown for the "Twilight" movie adaptation. Eh. It looks like a vampire version of
Hannah Montana
.
12:00
- "Harold & Kumar 2" panel starts. They talk a lot about stoners and how excited they are for the sequel.
Neil Patrick Harris
mentions his role in
Joss Whedon's
new musical, and my insides turn to goo.
2:00
- "
Journey to the Center of the Earth 3-D
" panel starts. It is the
Brendan Fraser
show. He amuses everyone with being spastic and adorable all at once. If the movie was about the holocaust, Fraser would still find a way to make it hilarious. He talks in Geek-lingo about the special effects, and I can feel man-crushes beginning all around me. They hand out free tickets to a preview of the movie. Free is my favorite word of all.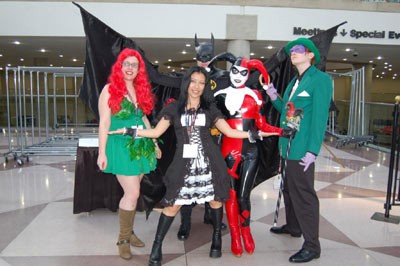 3:50
- I attempt to kiss a Batman statue.
4:45
- Get into line at Times Square for the 3-D movie. My friends cannot get in because they brought a video camera and bags. The security is intense, and I'm afraid to get out of line for refreshments. The movie is very pretty and sparkly, so I come out happy. Fraser's car is outside, but I resist the urge to bang on it, and tell him that I loved "
George of the Jungle
" even if no one else did.
6:00
- Comic Con adventure is officially over! Next stop: San Diego International Comic Con!
Story by
Chelsea 'Dee' Doyle
Starpulse contributing writer
Photos by Lylianne Ware