Comic-Con: A 'Twilight' Reboot? Stephenie Meyer, K-Stew and R-Pattz Are Ready!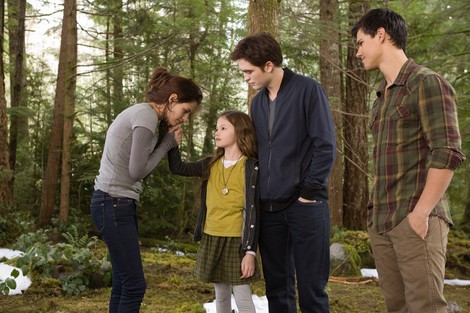 With Breaking Dawn: Part II, the Twilight movie saga comes to an end, and makes its last appearance at San Diego Comic-Con. Kristen Stewart, Robert Pattinson and author Stephenie Meyer are in San Diego greeting the fans, camped out in tents, for one last time. 
At a press conference before their Comic-Con panel, the trio addressed the possibility of a reboot, should a new group of filmmakers decide to film the books again. Pattinson dared someone to do it.
"I would love to see that," he said. "I pity the person who takes over my part. I would campaign against them."
Of course, Pattinson played the vampire Edward Cullen and Stewart is his human love Bella. By the end of Breaking Dawn she becomes a vampire with him and their vampire child, having defeated the evil Volturi vampires. Stewart almost convinced herself that the ending of Breaking Dawn should be the final ending. 
"At the same time what's really great, the reason turning that last page is what it is, is because it's done, they can have it now," Stewart said. "Maybe it's an insider's perspective, I played her, but if anything else happened, I swear to God, leave them alone. At the end it's abundantly satisfying, sweet and ideal, it just feels good. It should end."
Then Stewart added she'd be down for any more Twilight stories Meyer would like to write. She's already starting to get homesick now that she's wrapped and the final movie is coming out. "But Steph, I'm down," Stewart added. "I'm just saying, I would be open to the idea. I'd be really curious to see what it was."
Meyer maintains she is done writing Twilight stories, at least for 20 years. Knowing the business of moviemaking though, she expects that there may be another Twilight movie. "I do pity the person who tries to step into these roles," Meyer said. "It's going to be really hard and not going to go well for them. It'd be interesting but it'd be so hard."
The Twilight Saga: Breaking Dawn Part II opens this November. Keep coming back to Starpulse this weekend for more celebrity sightings from Comic Con!