Comic-Con 2014: Jenna Busch Unites Female Fans With Legion Of Leia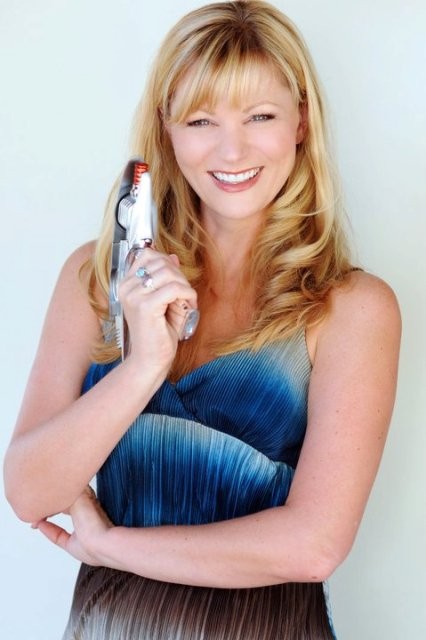 Conventions like San Diego Comic-Con and this weekend's Dragon Con are all about bringing pop culture fans together. Not just to have a good time, but often we can change the landscape of fandom. That's what our colleague Jenna Busch is striving for with her new organization Legion of Leia, which aims "to raise awareness of the fact that women love sci-fi...and our contributions to it are out of this world." We sat down with Jenna at Comic-Con to learn more about Legion of Leia.
"It all came out of the Star Wars [Episode VII] casting, with the initial announcement that there was only one new woman," she told us. "I thought there's so many amazing female characters in the Expanded Universe, and I just felt that was not paying homage to the people that loved the series....There are a lot of women that have been announced [since then], and that's fantastic."
But that initial reveal (or lack thereof) gave Jenna the idea to spread the word about the female presence within the genre. "What I started doing was profiling women in sci-fi," she said. "Just to show girls that they're all over sci-fi and to make sure that girls know that this is something they can do."
That idea gave birth to a blog that's now a wonderful hub to learn more about women within science fiction, in just about every shape and form. Jenna and a squad of contributors have profiled female characters (like Katniss Everdeen from The Hunger Games and Kara "Starbuck" Thrace from Battlestar Galactica) as well as female contributors in the real world (including writer-producer Jane Espenson and Her Universe founder and our friend Ashley Eckstein). Furthermore, they've started discussions about topics relating to women, such as character design and representation.
"It's grown like crazy," Jenna enthused. "The great thing is people are coming up and saying I love this idea, [including] a lot of guys, and I had a woman come up to me with her young son."
Does she have favorite pieces that have appeared so far? "I did my ALS Ice Bucket Challenge, which is crazy," she laughed. "I've been doing a lot of news stories, but there have also been opinion pieces. We had all the women at the Geekie Awards talking about their favorite women in sci-fi. I did a thing about not killing Arya [on Game of Thrones]. One of our contributors wrote a piece on Starbuck from Battlestar Galactica which just went up."
What makes Jenna's founding of Legion of Leia all the more impressive is that she's balancing it with her numerous commitments as a fellow journalist. Jenna is herself a great representation for women in the entertainment industry, a smart, dedicated and prolific writer who's established her own enviable resume. You've seen her at conventions, on panels, on podcasts and talking with some of the biggest names out there.
How does she keep everything together? "I think when you get into this business you realize very quickly that you'd better love what you do," she told us, "because you don't have time to do anything else!"
Asked about her career highlights, she reflected, "To sign something for Stan Lee was one of the craziest things that's ever happened to me. It's authors that really do it for me, because I started as a book reader with Star Wars and Anne McCaffrey and Terry Brooks. I got to talk to Michael Uslan who, back in the late 1970's no one wanted anything to do with Batman, and so he bought the rights to Batman."
So with everything she's accomplished to date, surely Jenna can relax and just enjoy the awesomeness, right? Nope. Not even close. "I don't think it's a good thing to be super content," she explained. "I'm proud of what I've done, especially Legion of Leia has been a huge thing for me. It really means a lot to me. When I started doing this there weren't a lot of women covering the geek circuit...To be able to actually have a platform to talk about this stuff makes a huge difference to me.
"This is my third career," she continued. "I was an actor for years, and then I was a makeup artist, and then this started because a friend of mine from high school asked if I wanted to interview Jack Nicholson and Morgan Freeman. You don't say no to that!"
"The industry is changing for women," Jenna told us. "I was talking to somebody about Legion of Leia, and saying that I suppose the goal is that we're not necessary someday. The geek landscape has changed for women so much in just the eight, nine years that I've been doing this. But it is interesting how a lot of things haven't."
Yet with folks like Jenna and Ashley Eckstein leading the way, positive change is closer now than it's ever been before. And women aren't just represented - they're spoken for by some truly talented, thoughtful, amazing ladies who are great examples in fandom for all fans, not just fangirls.
The day after our conversation with Jenna, Legion of Leia announced a content partnership with the genre site Geek Girl Authority, enabling Legion of Leia to reach even more eyes and ears in the sci-fi fandom. Through this announcement and an ever-expanding social media presence, the organization is already making big strides in less than four months of existence - we think Princess Leia woud be proud.
For more on Legion of Leia, visit the official website (legionofleia.wordpress.com) or follow them on Twitter (@LegionofLeia). For more with Jenna, follow her on Twitter (@JennaBusch) or visit her blog (girlmeetslightsaber.blogspot.com).