Comic Con 2013: First Teaser Of Jamie Foxx As Electro In 'The Amazing Spider-Man 2' Released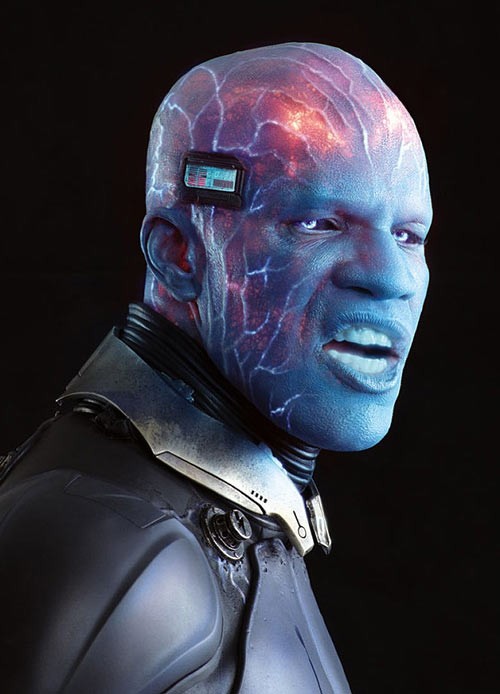 The first teaser for The Amazing Spider-Man 2 was released Thursday during San Diego's annual geek-Mecca Comic-Con, giving fans a first look at new villain Electro, played by Jamie Foxx.

The teaser is only 39-seconds long, showing Electro hooked up to some sort of table and explaining that he wants to know how powerful he actually is after gaining the ability to control electricity.

Fox plays Max Dillon, who becomes the super-villain after he's struck by lightning while working on power lines.

"I can feel it in the walls ... I feel it in my veins... You want to know how powerful I am? Well I want to know, too," he says in the teaser clip.

The film's ironically-named director Marc Webb talked with MTV News at Comic-Con on Thursday, discussing concerns over his inclusion of several villains in the film.

"I'll tell you that the main villain in this movie is Electro," Webb says. "These movies are sort of on-going, and there are hints and teases of what's going to unfold in the future, but we were very focused on that simple conflict between Spider-Man (Andrew Garfield) and Electro."

In addition to Electro, the film also features Rhino (played by Paul Giamatti) and the Green Goblin (aka Norman Osborne, played by Chris Cooper), and Doctor Who star Felicity Jones recently hinted that her character in the film is that of villain Black Cat. The character is the Green Goblin's girlfriend in the comics, and without blatantly saying that's who her character is, she did come as close as you can.

"It's all quite shrouded in secrecy, but I'm the Goblin's girlfriend. I'm in a relationship with him, and his accomplice. I'm on the dark side," she told the London View.

Webb also reveals that Spider-Man will meet his match in Electro, explaining that the bad guy can "disembody and go into electrical sockets" and "if you touch him, it's like the voltage of a thousand third rails."

"For Spider-Man, whose webs happen to conduct electricity—I don't know if you knew that—he poses a really difficult challenge," he adds. "That was our focus for the villain."

"The Amazing Spider-Man 2" panel happens today at 4pm (Pacific) at Comic Con. Webb, along with the film's stars will showcase the sequel, which is due in theaters May 2, 2014.

Check out the Electro teaser below...