Comic-Con 2013: A Conversation With Amber Benson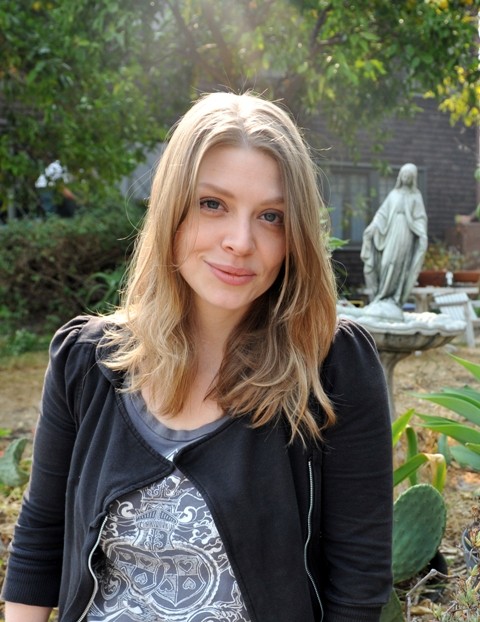 Amber Benson won fans' hearts as the dearly departed Tara Maclay on Buffy the Vampire Slayer. Looking beyond Buffy, however, she's also a talented hyphenate: actress, director, writer. BFTV snagged a few minutes with Amber at this year's San Diego Comic-Con to find out about her myriad of current projects and enduring place in pop culture.
"I get overwhelmed by it all!" Amber told us with a laugh. "I have a new series of books for Penguin; the first book's called The Witches of Echo Park. That'll be out next year. I'm doing a film with Neil Gaiman called Blood Kiss, that we did a Kickstarter for. And I have an essay in a fanfiction book that's coming out. That was kind of fun."
The author of the successful Calliope Reaper-Jones series of novels, Amber explained that writing has been part of her resume for about as long as she's been acting. "I always wrote, mostly really bad poetry and weird short stories, and I had a journal for many years, but it was something that I'd always done," she revealed.
"Then when I was on Buffy, Christopher Golden approached me about doing comics. He and I did three Willow/Tara comics for Dark Horse. Then we ended up doing something for the BBC. We did an animated show for them. It's just kind of gone on from there.
"Writing is something you can do by yourself," she continued, "and as an actor I had so much downtime. Especially on the Buffy set. I'd be sitting there waiting while they'd do stunt stuff or special effects stuff - so I'd just sit there on my computer and write."
So how does she describe Amber Benson, the author? "I like to say if you took Neil Gaiman and The Devil Wears Prada and you pushed them together, that would be what I write," Amber told us. "I write urban fantasy that is silly and fun, but has a mythology to it."
With five novels in the Calliope Reaper-Jones series since the debut of Death's Daughter in 2009, Amber has established herself as a talented author, capable of cultivating a literary audience in addition to the one that knows her from her TV exploits.
Speaking of television, there's no doubt that Buffy the Vampire Slayer is one of the biggest small-screen phenomenons of all time, and truly something special to have been a part of. But is Amber ever concerned that folks might be more focused on her as Tara than her more recent accomplishments?
"You know, it's funny because I guess some people are terrified to talk to me about Buffy," she said with a chuckle. "But for me, it's how I am able to do the things that I'm doing now. It's part of who I am and I am always willing and excited to talk about it.
"To meet people and see how that storyline especially moved people and helped people. Getting letters from young LGBTQ kids saying 'I didn't kill myself because of that relationship,' or 'I came out to my Christian parents in Des Moines, Iowa because of Tara and Willow.' So for me, I'm very proud of it."
"I'm never satisfied with anything I do. I'm always like 'You can do it better, Benson,'" she continued. "But I definitely feel like the Buffy stuff was important as far as society, because I feel like the LGBTQ stuff was super-important. There needs to be equality across the board. So I feel like we helped with Buffy."
Looking forward, with forthcoming books and a new film in front of her, Amber is grateful for the big things she's been a part of, but also appreciating the small things, too. "We all want to do these amazing, deep, important things, but really sometimes just making people laugh, it's kind of a special thing," she reflected. "I feel like with the books especially, if I can just make people laugh and sort of leave their world for a little while, I've done my job. I've contributed to society in a positive way."
With her talent, down-to-earth charm and passion for her work, Amber is still winning us over, now just in print as well as on screen.
You can keep up with Amber by following her on Twitter (@amber_benson).
(c)2013 Brittany Frederick. Appears at Starpulse with permission. All rights reserved. No reproduction permitted. Visit my official website and follow me on Twitter at @tvbrittanyf.