Comic-Con 2011: Warner Bros. Wants You In Their VW Tweety Car!
San Diego Comic-Con is known for cool prizes, and this year's is no exception. Warner Bros. has just announced it will be giving away a Tweety-branded Volkswagen Bug!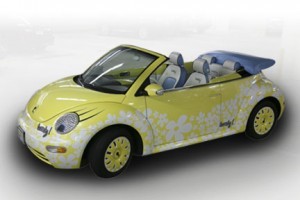 To promote The Looney Tunes Show (which currently airs Tuesday at 8 PM ET/PT on Cartoon Network), WB is picking one lucky winner from fans who visit their exhibit hall booth (#4545) during the convention, July 20-24. The winner will be revealed at the booth on Sunday, July 24.
You can check out more images of the Tweety Bug here.
That's not all Warner will be giving out at the convention. The studio has had one of the most popular booths in the exhibit hall in recent years, starting with their distribution of the Comic-Con official tote bags (which this year double as backpacks so you can more easily carry all that swag!), branded keycards at certain hotels, and booth freebies including Young Justice playing cards, Looney Tunes buttons, and Fringe luggage tags.
More information on Warner Bros. Comic-Con plans, including the studio's panel schedule and autograph signing information, can be found at their official CCI minisite here.
Stay tuned for more coverage about and from San Diego Comic-Con 2011!