Comic Book Staple Archie Andrews Gets Shot To Death Saving Gay Friend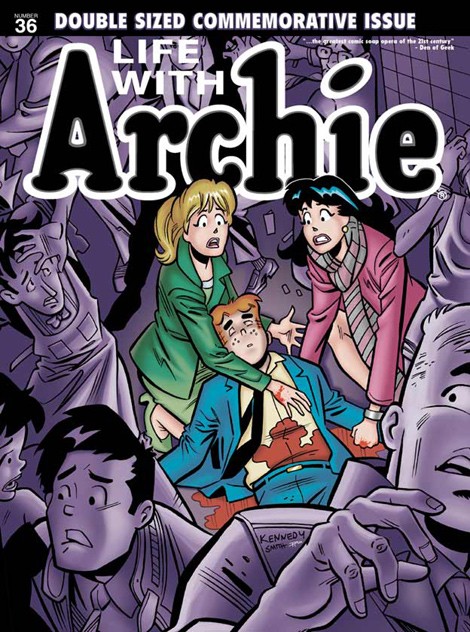 Everyone's favorite ginger haired comic character, Archie Andrews, dies from a bullet wound after saving a gay friend in the upcoming penultimate issue of "Life With Archie." Specifically, Archie stops an assasination attempt against Kevin Keller, a military veteran and openly gay senator who wants stricter gun control in Riverdale. 
Archie publisher and co-CEO Jon Goldwater told the Associated Press: "We wanted to do something that was impactful that would really resonate with the world and bring home just how important Archie is to everyone. That's how we came up with the storyline of saving Kevin. He could have saved Betty. He could have saved Veronica. We get that, but metaphorically, by saving Kevin, a new Riverdale is born."
"Life With Archie" centers on Archie and his pals as adults, and it was revealed in April that the titular character would be killed off.
Goldwater added: "The way in which Archie dies is everything that you would expect of Archie. He dies heroically. He dies selflessly. He dies in the manner that epitomizes not only the best of Riverdale but the best of all of us. It's what Archie has come to represent over the past almost 75 years."
Issue #36 will hit newstands on Wednesday, July 16. The final issue, #37, will take place a year following Archie's death and center on how his friends are dealing with the aftermath of his passing.