Comedy Central Raises Their Glass To The Network Television Premiere Of 'Beerfest'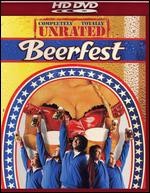 Comedy Central brings viewers a special two-night premiere of side-splitting comedy with the Network Television Premiere of
Beerfest
, starring
Jay Chandrasekhar
,
Kevin Heffernan
,
Steve Lemme
,
Paul Soter
and
Erik Stolhanske
, Saturday, February 7 and Sunday, February 8 at 9:00 p.m.
Catch the encore presentation of "Beerfest" on February 8 at 1:00 a.m.
Start the double fisting and work out your gag reflex, it's time to get toasted! Broken Lizard, the team behind
Super Troopers
is back with a movie that shows bar flies aren't in it for the buzz, but for bragging rights. When brothers Jan and Todd Wolfhouse are humiliated by their lederhosen-wearing cousins at an underground drinking game tournament called "Beerfest," they must restore the family honor by leading an American team to victory. With the help of their friends, Landfill, Fink, and Barry, they compete in the toughest drinking games that only a twisted German could dream up. Together, through alcohol poisoning, betrayal, and even death, Team USA stands proud and holds its hops to take the title at "Beerfest"!