Comedian Ron White Is Busy: Has New CD, DVD, Book, TV Special and Animated TV Series On The Way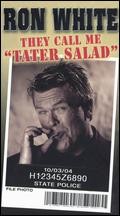 Comedian
Ron White
continues to headline theaters across the United States with his "
Drunk In Public
" tour. The tour was ranked in the top 50 tours in Pollstar Magazine of 2004. Robert Koehler of the Daily Variety writes: "White's inspired comic mind finds a dozen sources of humor where the average comic would only find one or two, while making a fine art of the deadpan style."
White recently taped a new One-Hour Special "
You Can't Fix Stupid
" for Comedy Central at the Majestic Theater in Dallas, TX. The special will air on Sunday, March 26, 2006. The comedy CD of the same name will be released on February 7, 2006, on Image Records, and the DVD will be released on March 28, 2006.
The comedian is also developing an animated series for TBS based on his standup which should premiere in the summer of 2006. He also has a book coming out with Dutton Publishing on June 6, 2006, "I had the right to remain silent... but I didn't have the ability" based on his standup.