Comedian Ralphie May Busted With Pot In Guam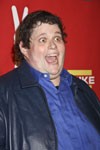 Comedian Ralphie May has been fined by authorities in Guam after customs officials found him in possession of marijuana.
 
The funnyman was taken into custody upon arrival on the island in the western Pacific Ocean last Tuesday when a tiny quantity of the drug was discovered among his belongings.
May was busted when he went over to pet a drug-sniffing dog he thought was cute.
The comedian tells TMZ.com, "When I got to baggage claim, I actually walked up to the dog. I love dogs and petted Nickey, the beautiful shepherd mix, and she sat down. That indicates to the handler that I had marijuana on me. I didn't know that, I just thought that dog loved me. Then another dog came over and it sat down as well and I petted that dog too. I was thinking these dogs love me they can tell I'm a dog person."
He was released after paying a small fine and allowed to press ahead with his comedy show tour, reports TMZ.com.