Comedian Natasha Leggero Responds To Backlash For Joke About World War II Veterans, Says She's 'Not Sorry'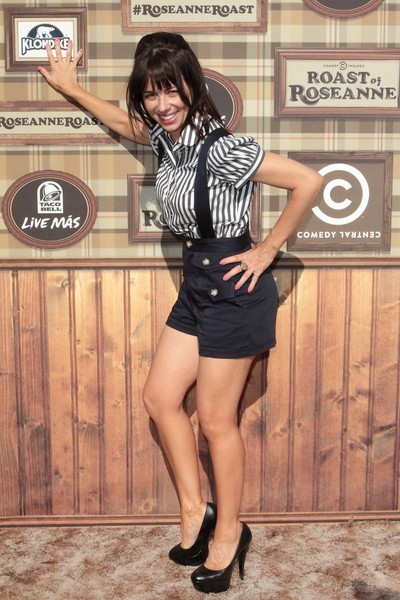 Comedian Natasha Leggero has come under fire for comments she made about World War II veterans on NBC's "New Year's Eve with Carson Daly," but don't expect her to apologize.

During the live show, Daly mentioned a recent story about a tweet from Campbell Soup's SpaghettiOs, which shared an image of their cartoon mascot holding an American flag with the message, "Take a moment to remember #PearlHarbor with us."

SpaghettiOs came under fire for being insensitive over the tweet, and ultimately deleted it and posted an apology hours later.

After explaining the story to his guests, which included Leggero, Anthony Anderson and Jane Lynch, Leggero quipped, "I mean, it sucks that the only survivors of Pearl Harbor are being mocked by the only food they can still chew."

Leggero came under fire for her comments (which had Lynch and Anderson doubling over with laughter), and she addressed them in a very unapologetic post on her Tumblr page on Friday.

"On New Years Eve I made what I thought was a harmless joke..." she began, "Here is my response."

"It's been a busy few days but rest assured, I have received all of your messages and have been busy sifting through the different creatively misspelled death threats, rape fantasies and most of all repeated use of the the C word. In the past few days I have been called a c**t so much I felt like I was in a British pub rooting for the wrong soccer team...

"I wish I could apologize, but do you really want another insincere apology that you know is just an attempt at damage control and not a real admission of guilt? Let me just try instead to be honest.

"I'm not sorry. I don't think the amazing courage of American veterans and specifically those who survived Pearl Harbor is in any way diminished by a comedian making a joke about dentures on television. Do we really believe that the people who fought and defended our freedom against Nazis and the Axis powers will find a joke about Spaghetti O's too much to bear? Sorry, I have more respect for Veterans than to think their honor can be impugned by a glamorous, charming comedian in a fur hat."

Leggero goes on to ask her detractors whether or not being outraged over her "joke about how old people can't chew tough foods very well" is more important than the "inadequate care" that veterans receive when they return from active duty.

"To those looking for an active way to address [veteran care issues], do what I've decided to do instead of apologize: Make a donation to the Disabled American Veterans foundation."

Several comedians had Natasha's back following her comments, including Amy Schumer, who tweeted, "I loved @natashaleggero 's Joke on New Years Eve. #itwasajoke #sheisacomic #selectiveoutrage"; and Neal Brennan, who co-created Comedy Central's "Chappelle's Show."

Perhaps Brennan said it best: "FINALLY, A COMEDIAN (@natashaleggero) WHO REFUSES TO APOLOGIZE. THANK F***ING GOD."

On a lighter note, during the New Year's Eve broadcast, Lynch threw in her own dig -- but instead of aiming her comments at veterans, she opted to go after SpaghettiOs.
"I'm offended because they were referring to SpaghettiOs as pasta," she joked.