Colin Firth's Wife To Dress Green For Awards Season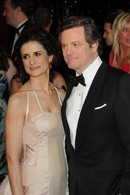 Oscar winner Colin Firth's eco-warrior wife has given the world's top designers a challenge for the awards season after asking them to create one-off gowns for her using only recycled materials and vintage couture.

Her husband's A Single Man director Tom Ford, and top designers from Chanel, Yves Saint Laurent, Paul Smith and Valentino have agreed to dress Livia Firth for the red carpet in eco-friendly gowns as part of the 2012 Green Carpet Challenge.

Firth tells Vogue magazine, "Over the last three years, the Green Carpet Challenge has become an all-consuming passion of mine. This part of the fashion landscape is so exciting because it's genuinely revolutionary and relentlessly positive."

The outfits Livia wears on the red carpets at awards shows will be posted online on Vogue's Green Carpet Challenge blog, beginning with her Golden Globes gown on Sunday.