Coldplay To Debut 'Talk' Ringtone On CSI: New York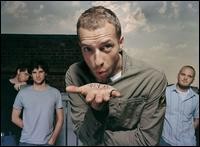 In a unique agreement that links the worlds of network television, music and wireless communications, a ring tone featuring a single from the Grammy Award-winning band
Coldplay
will be woven into an upcoming episode of
CSI: New York
. Moments later, after the scene is broadcast, a ring tone from that song will be offered to viewers for download on their personal cell phones.
As part of the cross promotion agreement between CBS and Capitol Records, a ring tone of Coldplay's "Talk," the second single from the double platinum album
X&Y
(click for review), will be embedded into the content of the CSI: NY episode to be broadcast Wednesday, November 30. In the episode, CSI: NY's Danny Messer (series star
Carmine Giovinazzo
) is investigating a case when his cell phone rings to the tune of "Talk."
Following the scene, CBS will run promotional messages during the act break in the episode alerting viewers as to how they can purchase and download a ring tone from "Talk" in Realtone format onto their personal cell phones. The Realtone version will be available exclusively for one week through most major wireless carriers by sending the text message "Talk" to a specific number provided by CBS. After this exclusive one week launch window, the ring tone will be widely available, including on CBS.com. In addition to the ring tone, the song "Talk" will also be used as background music in a scene later in the broadcast.
CSI: NY is a one-hour drama series about forensic investigators who use high-tech science to follow the evidence and solve crimes in the Big Apple.
The series stars
Gary Sinise
,
Melina Kanakaredes
,
Carmine Giovinazzo
,
Eddie Cahill
, Anna Belknap and
Hill Harper
. CSI: NY is broadcast Wednesdays at 10:00PM ET/PT.
Coldplay
's
X&Y
debuted at Number One in 32 countries upon its release in June and has since sold 2.3 million copies in the U.S.
A Rush of Blood to the Head
, the band's sophomore album, was recently certified quadruple Platinum in the U.S. The band has won four Grammy Awards and sold upwards of 28 million albums worldwide in total to date. Hailing from England, Coldplay features
Chris Martin
on vocals and piano, Jon Buckland on guitar, Guy Berryman on bass and Will Champion on drums.
The Realtone format is a ring tone based on the master recording of a song which includes the lyrics.
Related Links:
Coldplay ringtones & realtones
Coldplay history, pictures, discography & more...
Review of Coldplay's X&Y on Starpulse