Coldplay Tape Street Show For Post-Oscars TV Party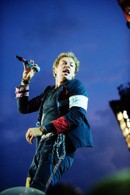 Coldplay have taped a 'block party' performance in Hollywood for comedian Jimmy Kimmel's post-Academy Awards TV spectacular on February 26.

The group struggled through a performance of "Paradise" at the Grammy Awards on Sunday as frontman Chris Martin battled a bad cold and now they're set for another big night after quietly taping a street party concert last week for fans of Jimmy Kimmel Live!.

The funnyman will also welcome Oprah Winfrey, Meryl Streep, George Clooney, Tom Hanks, Cameron Diaz, Helen Mirren and host Billy Crystal, among others, to his show - his seventh post-Oscars TV event.

Winfrey will be among the night's winners as she has been announced as the recipient of the Jean Hersholt Humanitarian Award for her philanthropic and inspirational efforts, while Streep and Clooney are favorites to pick up the night's Best Actress and Actor trophies.