Coldplay Stun At Benefit Concert As Chris Martin Battles A Cold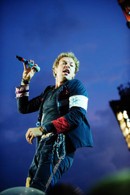 Coldplay frontman Chris Martin is battling jet-lag and a nasty cold ahead of the band's performance with Rihanna at the Grammy Awards on Sunday.

The singer hit the stage for a charity gig in Los Angeles on Wednesday night and appeared to be a little ill, but his show-must-go-on attitude prevailed and he croaked his way through a 90-minute I Heart Radio hits set to benefit city youth organizations.

In fact, the band pulled out all the stops at the intimate Club Nokia show, supplying fans with complimentary wristbands, which lit up to the beat of select songs, and showering them in leaf confetti. The Brits didn't hold back on their impressive light show either, suggesting their Grammys performance will be spectacular if Martin can stay healthy.

The stars came out for the special show - Martin's wife Gwyneth Paltrow took her actress mom Blythe Danner to the concert, while Nicole Richie, George Clooney's girlfriend Stacy Keibler, Cameron Diaz, singer Cheryl Cole and actress Julianne Hough were also spotted at the concert.

The sold-out Club Nokia gig is the first in a string of U.S. concerts for Coldplay. After their night at the Grammys, they head off on tour with a return to Los Angeles planned in May for three historic sold-out shows at the Hollywood Bowl.