Coldplay Back At Number One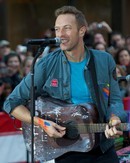 Coldplay have scored their third straight number one album in America.

The rockers' new release "Mylo Xyloto" has debuted at the top of the Billboard 200 countdown with 447,000 sales.

Kelly Clarkson's new release, "Stronger," also debuts high - at two - with 163,000 sales, and crooner Michael Buble completes an all-new top three with his holiday album, "Christmas."

Last week's number one, "21" by Adele, drops to four and Toby Keith debuts "Clancy's Tavern" at five.

Meanwhile, Tom Waits lands his first top 10 and highest debut on the Billboard 200 with "Bad As Me," which opens at number six.

On the U.S. singles chart, Rihanna claims her 11th number one with "We Found Love," and becomes only the seventh artist in the 53-year history of the Billboard Hot 100's to take at least 11 hits to the top of the countdown.

Adele's "Someone Like You," which was last week's number one, drops a spot to two on the new chart, which will be officially released on Thursday.

LMFAO's "Sexy and I Know It," "Moves Like Jagger" by Maroon 5 and Foster the People's "Pumped Up Kicks" round out the new top five.