Colbie Caillat To Release Debut CD, 'Coco,' July 17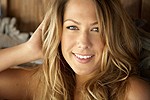 Ever since her mom gave birth to her in their Malibu home overlooking the ocean,
Colbie Caillat
has been the quintessential California girl. Her idea of a good time is hanging out with her friends at a beach bonfire or hopping in the car, tunes at the ready, and driving up the Pacific Coast Highway.
On Coco, her Universal Republic debut, the songs mirror Caillat's low-key, refreshing style. Armed with her acoustic guitar and her dusky vocals, she evokes the same gentle, yet spirited style of her musical influences
John Mayer
,
Bob Marley
,
Lauryn Hill
and
The Weepies
.
As befits the organic style of her music, Caillat's fan base has grown by word of mouth, one person at a time. Last year, she began posting her songs on her myspace.com; tunes like "Bubbly," a delightful confection about romance, and "Tailor Made," Caillat's joyful message to her sister over seeing her sibling find the perfect mate.
With no marketing push and only the power of the music behind her, Caillat became a sensation on the social networking site. Last October when she had 6,240 friends, Rolling Stone highlighted her as one of the top female artists on MySpace. Ultimately, Caillat became the #l unsigned artist for over four months and her number of friends swelled to more than 100,000. Her profile has been visited over 3 million times, and she has more than l0 million plays.
As her online popularity grows, so does the recognition factor. "I'm not even famous yet and every time I go shopping, the young girls who work in the stores, they know who I am. They'll ask, 'Are you Colbie from myspace?'," she recounts with delight. Grateful for the recognition, the laid-back, natural beauty lamented, "Great, now I'm going to have to put on make up every time I leave the house!" But she quickly reconsidered. "I'm not going to change myself on purpose for anyone, and I think that the best message I can give to my fans is that it is okay to be yourself." Indeed, even the album's title reflects her desire to remain true to herself: Her parents nicknamed her Coco while she was still an infant and it's a tag that has stuck.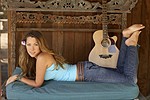 Caillat started singing around home as a small girl, but a pivotal moment came when she was 11. "I heard Lauryn Hill sing 'Killing Me Softly.' I think her voice is absolutely beautiful and it made me want to start singing, so I sang one of her songs at a talent show in sixth grade."
Her household was filled with music. Her father, Ken Caillat, co-produced
Fleetwood Mac
's legendary
Rumours
and
Tusk
albums and later ran his own record label. "My dad was always producing and mixing and he has the console in our house. A few years ago, he remastered 'Tusk' so I've always been around music." She recalls
Mick Fleetwood
and
Lindsey Buckingham
hanging around: "All of my dad's friends are in the business, so I've learned from them. Now that I'm in it, I can go to them and they have advice for me, so it's really cool."
Her dad even suggested that the renowned drummer and guitarist play on "Coco," but Caillat knew she needed to go her own way. But she still relied heavily on dad's words of wisdom. "I just wanted to be a singer and he said if you write songs, you get respect from people; you're having them relate to a part of you that you're sharing with them."
So the singer turned into a singer/songwriter and discovered an innate talent for observing and capturing nuanced, yet significant moments, such as that first blush of love or passage into adulthood. She also found two great collaborators in the process. Mikel Blue, whom she met when she was 15, hired her to sing the tunes he wrote for the St. John Knits' fashion shows. Their professional partnership led to writing together and his producing her album. She also connected with singer/songwriter Jason Reeves. Together, they crafted the songs on "Coco."

Writing happens organically for Caillat after a small gestation period. "I just let stuff build up inside of me and I'll write three songs in a weekend. It's a release," she says. "I don't pick something to write about. When I'm playing guitar, a melody comes out and whatever words come out, I go along with that."
And at some point, she instinctively heads toward water, but of a different sort than one might expect.
"I always go write songs in the bathroom because it sounds so good in there," she says. "It's like you're in a cathedral! It makes it sound a lot better, which gives you more confidence. I think melodies come out easier."
Inspiration comes from different places: conversations with family and friends or reflections on her own life. For example, her love of Hawaiian music is reflected on "Tied Down": "I've been going to Hawaii twice a year since I was 12. At one point, I moved there for two months with friends and got a job and got a Rent-a-Wreck, went longboarding, it was lots of fun. I've always wanted to have a ukulele on a song. I just love that laid-back sound. Hawaii is a huge part of me." Or the frustrations of trying to conquer a fear in "One Fine Wire": I took an improv class at junior college because I'm really shy in front of people up on stage. I ended up dropping the class because I had a scene I had to do. My parents were so mad at me because I just quit something I was trying to overcome. I went upstairs into my room bawling and wrote 'One Fine Wire.'"
Luckily for Caillat, just as she continues to evolve as a writer, she is growing as a live performer. "I'm getting used to it. I have my band now, I just love these guys. I interact with them on stage. It's so much fun."
On a more serious note, the 21-year old realizes young girls will look up to her. "I think it will be cool," she says. Indeed, who better than a young woman admired by her peers for her talent and work ethic, instead of for hanging out at nightclubs. A young woman who constantly wants to improve-she's starting piano lessons as well as continuing guitar because she thinks it can open up another dimension to her songwriting.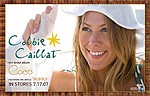 "In the past few months I've been preparing myself for this crazy adventure. I know many challenges and frustrations lie ahead, and I am going to learn a lot. But if I can come home with some great new songs, amazing experiences, and new friends," says Caillat, "it will all be worth it."
Listen to "Bubbly":
Quicktime
|
Windows
|
Real
Colbie Caillat Tour Dates (Italicized dates are not part of the
Goo Goo Dolls
tour):
6-6 Blue Grill Mobile, AL
6-8 Orpheum Tampa, FL
6-12 Canal Room New York, NY
6-15 Dodge theater Pheonix, AZ
6-16 Pearl Theater at The Palms Las Vegas, NV
6-17 The Greek theater Los Angeles, CA
6-18 Crystal Ballroom Portland, OR
6-19 The Greek theater Los Angeles, CA
6-22 The Greek theater Los Angeles, CA
6-23 Viejas Concerts In The Part San Diego, CA
6-25 Santa Barbara Bowl Santa Barbara, CA
6-27 Red Rocks Amphitheater Denver, CO
6-29 Heritage Park Muskegon, MI
6-30 Summerfest Milwaukee, WI
7-2 Starlight theater Kansas City, MO
7-3 Riverfest St.Louis, MO
7-15 Walnut Creek Raleigh, NC
7-16 Pier Six Concert Pavillion Baltimore, MD
7-18 Tom Ridge Pavillion at Mountain Laurel Center Bushkill Falls, PA
7-20 PNC Bank Arts Center Holmdel, NJ
7-21 Jones Beach Wantagh, NY
7-22 Tweeter Center Boston, MA
7-24 Saratoga Performing Arts Center Saratoga Springs, NY
7-25 Mohegan Sun Uncasville, CT
7-27 Borgata Events Center Atlantic City, NJ
7-28 Darien Lake Performing Arts Center Darien Center, NY
7-29 A.J. Palumbo Center Pittsburgh, PA
7-31 Chastain Parl Amphitheater Atlanta, GA
8-1 Pensacola Civic Center Pensacola, FL
8-3 Sound Advice Amphitheater West Palm Beach, FL
8-4 Ford Amphitheater Tampa, FL
8-23 Charter One Pavillion Chicago, IL
8-24 Minnesota State Fair Minneapolis, MN
8-26 Freedom Hall Detroit, MI
8-28 Tower City Amphitheater Cleveland, OH
8-31 Smirnoff Music center Dallas, TX
9-1 The Backyard Austin, TX
9-2 Cynthia Wood Pavillion Houston, TX
(Streaming audio and/or video links may expire without notice)