Coheed And Cambria To Hit The Road Supporting Linkin Park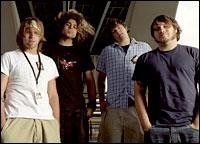 Columbia Records is proud to announce that
Coheed and Cambria
will be supporting
Linkin Park
on all dates of their upcoming national tour. The tour goes from February 12 to March 10 and will be hitting 19 cities, including Madison Square Garden in New York. The dates come on the heels of Coheed's successful sold-out 25-date national headlining tour that wrapped at New York City's Roseland Ballroom on November 29, 2007.
In their live review of the Los Angeles show at The Wiltern, the "LA Times" raved: "Self-indulgence is frequently seen as a crime in modern rock music, but without it there would have been no
Led Zeppelin
or '
Sgt. Pepper
,' no
Ziggy Stardust
or
System of a Down
. Overreaching sometimes pays off. And few young bands reach further than the prog-metal act Coheed and Cambria, for whom the extremes of time and space hardly seem to be enough," and concluded that the band had "epic sound and fury."
Coheed are touring to support their fourth record,
No World for Tomorrow
, which debuted at #6 on the Billboard top 200, giving the band their highest debut in their career as well as its highest chart position. Radio continues to show huge support across the country for the album's first single, "The Running Free" (charting on both Alternative and Active charts) while critical response to the album has been fantastic. Besides being highlighted in fall preview features in "New York" magazine, "USA Today" and the "New

York Times," "Blender" magazine said that with the redlease of the new record, "Coheed have found their sweet spot." David Fricke in "Rolling Stone" noted the band's "impressive resolution in the decisive pop arc of the mutating riffs and slippery time signatures," and concluded, "there is plenty worthy of rewind here." "Revolver" gave the record four stars in their lead review and said that, "this record feels like the beginning of something new," as it marks Coheed's "ascent from the geek-metal underground to the heavy-music mainstream."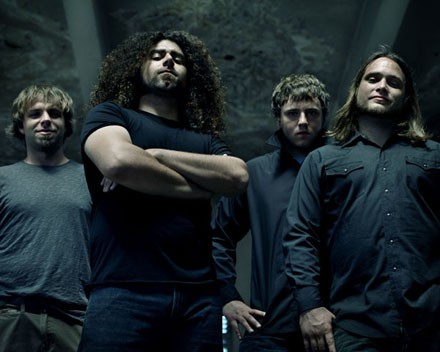 Coheed and Cambria (Sanchez - vocals, guitar; Travis Stever - guitar; Mic Todd - bass) spent the first half of 2007 working on "No World for Tomorrow" in Los Angeles with producer Nick Raskulinecz (
Foo Fighters
,
Rush
,
Stone Sour
) and mixer Randy Staub (
Metallica
,
Nickelback
). Coheed recruited Taylor Hawkins from the Foo Fighters to play drums on the record, while ex-
Dillinger Escape Plan
drummer Chris Pennie is now a permanent fixture in the band and has taken their live shows to new heights.
"No World For Tomorrow" has sold over 100,000 copies in four weeks, and the Linkin Park dates mark the first time the band has played in arenas.
Tour dates:
2/12 Omaha, NE Qwest Center Omaha
2/13 St. Paul, MN Xcel Energy Ctr
2/15 Columbus, OH Nationwide Arena
2/16 Detroit, MI Joe Louis Arena
2/18 Manchester, NH Verizon Wireless
2/19 Baltimore, MD 1st Mariner Arena
2/21 New York, NY Madison Square Garden
2/22 Montreal, QU Bell center
2/23 London, ON John LaBatt center
2/25 Lexington, KY Rupp Arena
2/26 Nashville, TN Sommet Ctr
2/29 Oklahoma City, OK Ford Ctr
3/1 Albuquerque, NM Tingley Coliseum
3/2 El Paso, TX Don Haskins Ctr
3/8 West Valley City, UT E Center