Coco Gives A Nearly Topless Weather Report During Hurricane Sandy (Video)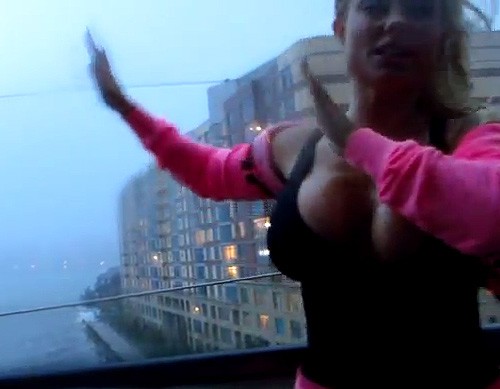 Ice Loves Coco star Nicole "Coco" Austin left little to the imagination Monday afternoon as she braved the strong winds from Hurricane Sandy on the balcony of her Edgewater, New Jersey home.

The star stepped outside with a video camera to capture shots of the coming storm while wearing a revealing black dress and pink sweater that showed off almost too much cleavage.

The wife of Law & Order: SVU star Ice-T posted a video of herself to her YouTube page giving a weather update shortly before the brunt of the storm hit the New York City area.

"Alright guys," she says in the video, "this is Edgewater, New Jersey. You can't really tell, but right across the Hudson River is New York, but as you can see, you can't see New York.

"There's like no one on the roads here. It's like a ghost town. The wind is crazy. I am soaked. It's so cool, but scary at the same time... Alright, I've got to get out of here."

Coco says she's had a strong interest in meteorology all her life.

"I get turned on by extreme weather.I always wanted to be a Meteorologist..My dogs & I already played outside in the wind..Its really cool!" she tweeted shortly after posting the video.

"I wanted to show how incredible the winds are and that the rain hurts your face when it touches you & you get wet so fast after being outside for 1 minute. Its actually not too cold which makes it tropical," she says on her YouTube page.

Check out the gratuitous video below...