Coby Bell Says Goodbye To 'Burn Notice'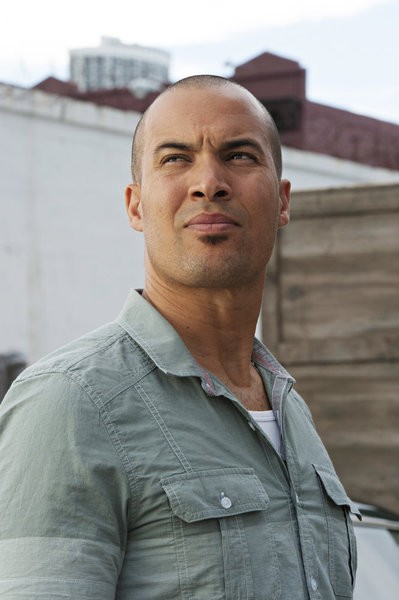 There are a lot of reasons we're sad to say goodbye to Burn Notice, but one of the biggest is that we won't be able to spend every Tuesday night watching Coby Bell, who plays former spy Jesse Porter. Coby, who's been a BFTV fixture during his four seasons on the show, graciously visited us one more time to help send off the series ahead of tonight's finale.
"It's all so intense at the end. We were all kind of firing on all cylinders," he told us. And although he can't give us any major spoilers - including about that reported character death - he did mention something ahead that he's particularly proud of, adding, "I had some really good scenes with Sharon [Gless], which, I can't wait to see those."
Since he came aboard Burn Notice at the beginning of season four, Coby has had three seasons less with Jesse than fellow regulars Jeffrey Donovan, Gabrielle Anwar, Bruce Campbell and Gless have had in their roles. Yet he feels satisfied with how much of the character he was able to explore. "The way Burn Notice is set up, I think we pretty much covered it as much as we could," he said. "Burn Notice, you don't really go too deep into the actual personal lives. You don't go home with these guys and see what they're eating for breakfast and what they're doing for their hobbies."
The show is significant for Coby in another way, in that it represents half of a major surge in his career. Simultaneously with his casting on Burn Notice, his previous series The Game was resurrected by BET more than a year after it had been cancelled by The CW, and the double duty has given the versatile actor the extra attention he deserves. "There's definitely been a boost in my career from the popularity of both of these shows," he said, "getting into Burn Notice right in the same year when The Game went to BET."
Yet that schedule has also been trying, too, as he's had to commute between Burn Notice's home in Miami, The Game's shoots in Atlanta, and his home in California. If there's one good thing coming from the end of Burn Notice, it's that he'll have more time with his family. "I'm definitely relieved right now," he admitted. "As much as I'm going to miss working on Burn Notice, It's going to be nice to watch my schedule slow down a little bit. That was four years of doing two shows."
(The rumored spinoff series featuring Coby and Bruce Campbell reprising their characters of Jesse and Sam respectively? Right now, just a rumor, according to Campbell, who addressed reporters on a conference call last week.)
We'll still be able to catch Coby on The Game, where he's played Jason Pitts for six seasons. Given that seven seasons is a long time for any series, has he started to wonder how long that show has left in it? "At this point it's just all gravy," he remarked. "Especially when it was a year and a half off the air, or even two years off the air. We started that show in 2006, and that was a long time ago. At this point, it's a job that I love and I'll be there as long as it's on."
Speaking of rumors, we asked him if the repeated references to Jason's ex-wife Kelly in season six of The Game - there was even an episode entitled "I'm Not Kelly Pitts" - mean that we could see Kelly back on the show after her disappearance partway through season four. All Coby could tell us was that we'll have to wait and see!
From Third Watch to The Game to Burn Notice, Coby has made his name on television, and lucky for us, that's where he's content to stay. "I'll go wherever the road takes me ,but I love doing TV, and it's been so great to me and I've done a lot of it," he said. "If there's something I know how to do, it's being on a TV show. TV is so cool because if you can get on a show that's on and stays on, you form a family and you form these great relationships. I'd love to keep doing TV."
And he'll be walking away from the role of Jesse with something else to be proud of: after a frosty reception when he first appeared, he told us he thinks the Burn Notice fans have finally come to accept him as part of the team. "I think so," he said, adding that the initial resistance was "to be expected. And to be honest, it took about a season for me to figure out the character, for the writers to figure out the character, to figure out where this character fit in the life of the show."
"The Burn Notice fans, I appreciate them so much. They're such devoted fans," he enthused, "and I'm reading on Twitter [that] a lot of them are so sad that the show's over. I'd just say don't be sad that it's over, be happy that it happened. It's seven years, you can't complain about that."
We certainly appreciate that the show introduced us to Coby, and that he and everyone at Burn Notice have given us years of hard work and awesome entertainment.
The Burn Notice series finale airs tonight at 9 PM ET/PT on USA; The Game returns to BET in 2014.
(c)2013 Brittany Frederick. Appears at Starpulse with permission. All rights reserved. No reproduction permitted. Visit my official website and follow me on Twitter at @tvbrittanyf.