Coachella 2013 Celeb Watch: Miranda Kerr, Alessandra Ambrosio, Hilary Duff & More!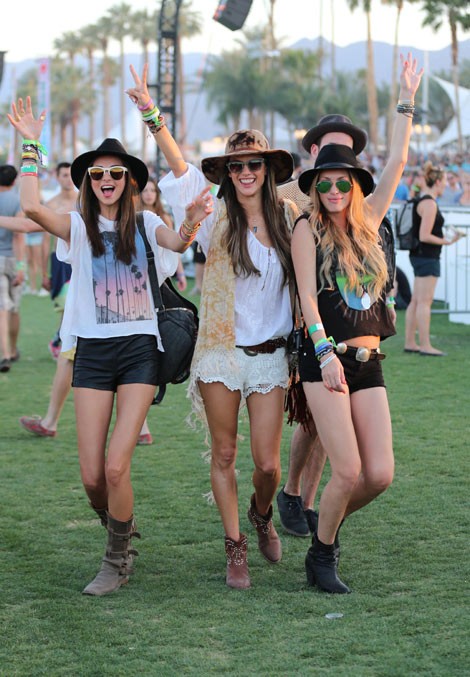 One of the greatest places to celeb watch this weekend is the Coachella music festival in Indio, Calif. On Friday we spotted a cluster of Victoria's Secret Angels: Miranda Kerr, Alessandra Ambrosio, Candice Swanepoel.
The trio hung out and had a great time together, giving the peace sign and waving to photographers. The models dressed in hippie chic outfits. Ambrosio wore lace shorts and a billowing white blouse with ankle-high cowboy boots. Swanepoel bared her belly in a colorful black tank top, and Kerr wore a graphic t-shirt featuring a sunset. All three ladies wore hats, sunglasses and multiple bracelets.
Kerr made headlines this week after it was reported that she was fired as a Victoria's Secret Angel. A source claimed she had a "difficult reputation" and wasn't a big seller. However, it soon emerged that Kerr simply was too busy to make the required three-month committment to remain an Angel.  She is a very in-demand model and also has a husband (actor Orlando Bloom) and 2-year-old son to take into consideration.
There was no Lindsay Lohan spotting...yet. The actress reportedly made a deal to go to rehab only if she could attend the musical festival first.
Check out more photos of celebrities who are kicking back, chillin', and listening to some great tunes at Coachella this weekend...