Coachella 2012: Party Recaps And Highlights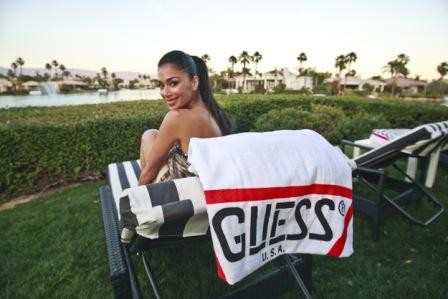 Coachella 2012 has officially come to an end and we're giving you a recap on which stars hit all the hottest parties.
Belvedere Music Lounge:
Kat Graham hit the stage with DJ Skeet Skeet at the backyard Mansion bash to perform her brand new single, "Put Your Graffiti On Me" which had Perez Hilton, Simon Rex and tons of party go'ers dancing. While the Belvedere was flowing, we grabbed Kat right off the stage to get her take on the 3-day music fest.
Watch!
The GUESS Hotel: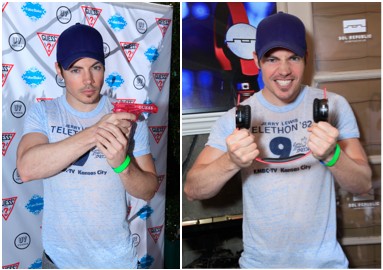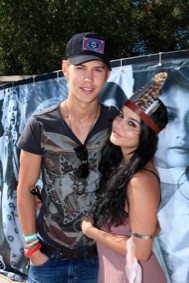 We saw some of Hollywood's biggest names inside Coachella's cutest boutique hotel. While Theophilus London was tearing it up one the one's and two's, Hunger Games star, Josh Hutcherson, was hanging pool side all three days with buddy Josh Henderson—can you say Josh heaven? The pals were walking around with GUESS sunglasses, Fake Bake sun-screen, SOL Republic headphones and battling it up with water gun fights. Our money was on Hutcherson, just sayin'. Spring Breakers hottie, Vanessa Hudgens, was seen getting quite cozy with boyfriend Austin Butler—hugging, kissing and face-feather tickling (weird, we know) any chance they could get! Other celebs in attendance included Nicole Scherzinger, Haylie Duff, Jessie and more.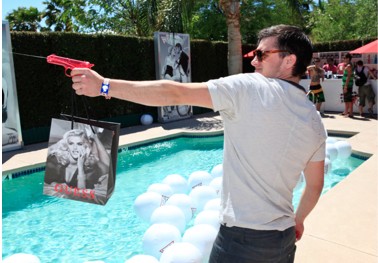 Hard Rock Pool Party:
Pete Wentz and A-track provided one of the sickest performances off Coachella grounds at the Hard Rock pool party. Even Lindsay Lohan decided to stop by for a few laughs but didn't seem to be partying as much as she has in the past! We're proud of you, Lilo.
Neon Carnival:
The biggest A list-bash of Coachella weekend was held at Indio's airplane hanger, filled with carnival rides, games, DJ sets and once again, tons of Belvedere. We saw GLEE's, Chord Overstreet, play every booth-game possible with on again, off again girlfriend, Emma Roberts. Other celebrities partying it up included Jessica Zohr, Shenae Grimes, Paris Hilton and boy toy DJ Afro Jack, Kellan Lutz, Adam Levine, Mark Salling, Usher and tons more. Basically if you weren't an A-lister, you weren't getting in. Don't worry guys, there's always next year! And if not, well, that's what you have us here for.