Clint Eastwood Helps Launch Golf TV Channel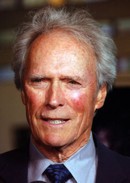 Movie veteran Clint Eastwood is indulging his love of sport by launching a new TV channel dedicated to golf.

The Dirty Harry star, an avid golfer, has been working as a consultant to develop Back9 since its inception in 2010 and has now been named creative board chairman and founding shareholder of the golf lifestyle network.

In his new role, Eastwood will meet with executives to discuss programming and casting choices after Back9 launches in the spring.

Back9 chief executive James Bosworth tells The Hollywood Reporter, "He'll be a big picture sounding board. It was natural to seek his advice. There's no better guy to go to for a golf media company."

It's not the only sports-related project Eastwood has in the works - he's also signed up to star as a baseball scout in upcoming movie Trouble With The Curve.