Clint Eastwood Freezes Up 'J. Edgar' Set To Keep Actors Cool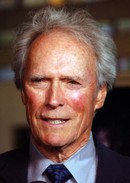 Clint Eastwood brought the big chill to the set of his new J. Edgar Hoover movie - to keep his actors cool underneath their heavy wardrobe and prosthetics.

Co-star Miles Fisher admits the set was like an ice hockey arena, so that stars like Leonardo DiCaprio, who plays Hoover, could feel comfortable.

Fisher tells Eonline.com, "All of that make-up and all of the cushioning and everything under the wardrobe is really, really hot. It was kind of like when you go to a hockey game and it's so cold in the arena because of the ice. That's how it felt on the soundstage.

"It's so much make-up. I think Leo was there for six hours each time, and they had to keep the set really cold."