Clint Eastwood Attends Grand Opening Of Warner Bros. Theater At The Smithsonian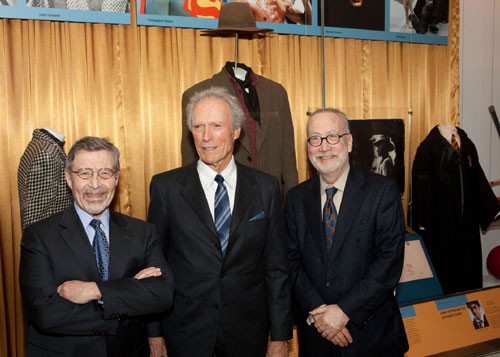 Last week, The Smithsonian's National Museum of American History celebrated the grand opening of the new Warner Bros. Theater in Washington, D.C., with a ribbon cutting and presentation of the Smithsonian Bicentennial Medal to Clint Eastwood for his contribution to the American experience through film.
The medal recognizes Eastwood's six decades of captivating national and international audiences through his work as an award-winning actor and director.

Accompanying the opening of the theater, a new display of objects will be on view showcasing the unique brand of Hollywood storytelling and accessibility that has helped to define American culture to global audiences.
The inaugural display includes costumes worn by Humphrey Bogart, Lauren Bacall, Ingrid Bergman and Eastwood along with Harry Potter's robe. Visitors will also see objects representing Warner Bros. studio history such as Jack Warner's silver telephone and Bugs Bunny animation drawings.
(Pictured above: CEO Barry Meyer, Clint Eastwood, National Museum of American History Board Chair John Rogers)