'Classic Hollywood Movie Star' Scarlett Johansson Lands A Spot On The Hollywood Walk Of Fame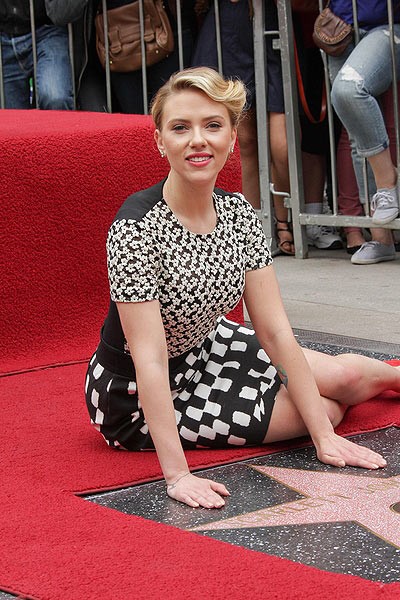 Scarlett Johansson was immortalized on Wednesday with her very own star on the Hollywood Walk Of Fame, right outside of Madam Tussaud's famed wax museum.

The Avengers star becomes the 2,470th celebrity to receive the honor; and she was joined by her sister, mother and grandmother at the unveiling, along with Avengers co-star Jeremy Renner, who she shares a lot of scenes with in the film, which opens Friday.

"This industry in which I was practically raised has been so impossibly kind to me," she said. "There's never a day where I go to set and don't thank my lucky stars to simply be a working actor."

Renner also spoke at the event, likening her to the stars of yesteryear.

"Scarlett is built like a classic Hollywood movie star," he said. "However, it is only betrayed by her no-nonsense attitude, her sharp wit and self-deprecating sense of humor that truly defines her alluring charm."

Scarlett recently spoke with Reuters about her experience filming The Avengers, revealing that the predominantly male cast was a little rougher with her than she expected.

She says, "If anything, the guys weren't as delicate with me as I thought they would be. They like to play hard and always dragged me along for the ride. I'd always come back with battle wounds. But they're a great group of guys. All of us got on so well."