Clare Kramer Works for the Fans with GeekNation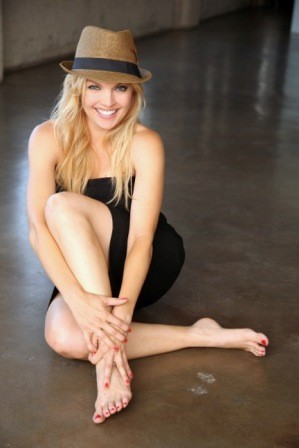 With the advent of the Internet, blogs and fan communities are a dime a dozen. Yet it's a whole new ballgame with the arrival of GeekNation, the brainchild of Buffy The Vampire Slayer actress Clare Kramer. Part fan group, part full-service production studio, GeekNation is an organization built by artists, setting it apart from any other entry into the crowded arena.
"I think that's one of the beauties of the Internet, [that] anyone can create a blog," said Kramer, "but we produce all our own content: written content, podcasts and video content. We have a five thousand square foot soundstage, we have a recording studio, we have all the support staff you would need to record an album. We are excited about the fact that we're not aggregating a lot of content. That'd be one of the main differentiations [between GeekNation and other sites].
"I love the layout of our site. I think it's really unique. Of course, the other unique thing about GeekNation is the talent that we bring in. We're able to call our friends. We kind of have that next level of access." So far, that's included appearances from the likes of Kramer's Buffy castmate Amber Benson, Babylon 5's Claudia Christian, and veteran sci-fi writer Jane Espenson, among others.
But if that all sounds like Greek to you, hold up: you don't have to be a Buffy fan, or a member of any particular group, to have a place at GeekNation. Those of you with more obscure interests are just as welcome as those who are part of the largest fandoms.
"We really try not to limit ourselves. We're not a Star Trek site. We're not a [Joss] Whedon site," said Kramer. "We're sort of all-encompassing. It's all about finding that little gem of a film, a project, a song, an article - anything that sort of catches our eye that we feel is important or that we just feel is interesting."
Describing herself as "a total fan of The Walking Dead; I'm a huge fan of Game of Thrones, a big fan of anything HBO," and having been part of the massive Buffy fandom when she played the goddess Glory in the show's fifth season, Kramer has an excellent perspective on fandom, since she's seen it from both sides. With GeekNation, she's facilitating the ability of artists to get content to their audience, and for said audience to be able to hear more directly from the artists they love.
What inspired her and her team to launch such an ambitious project? It's actually a fairly common drive: the desire of artists to create their own opportunity, rather than hoping for the opportunity to find them. Why wait for someone to give you the chance to do that film or podcast you've always wanted to, when you could do it yourself?
"I wanted to create an environment where fellow artists could come," Kramer explained. "They could have an idea and take it from inception through production and then have a platform to release it on. And then of course to create an online community that's passionate about the same things we at GeekNation are."
Although the site is still in beta, with "several tiers" to the business plan in the future, that's not stopping the GeekNation folks from diving headfirst into all aspects of entertainment. One questions if 'work' is even the appropriate term when you get to create original blogs, videos, podcasts and interviews all day. "It's a very fun environment," agreed Kramer with a laugh. "It is surprising that we do manage to get any work done because we are all friends.
"Everyone comes in and hits the ground running with what's on their daily agenda. Different people have different aspects of the site that they're responsible for. We are completely flexible, so if there's something really interesting happening, somebody will jump on and create a video or write a blog."
Although GeekNation is a huge venture for Kramer, she added that "Acting is still my main focus. I have two movies coming out; one is called Mega Spider, one is called Road to Hell." There will be no shortage of her in front of the camera.
Yet with the launch of GeekNation, she's also established herself as a fantastic ambassador for fans everywhere: an artist who isn't just accessible to her fans (she's a frequent Twitter user), but who is right there alongside them, just as passionate about entertainment as they are and giving them a place to come and express their thoughts and opinions.
It doesn't matter if you're a fan of the next big thing or that movie no one has ever heard of; you have somewhere to go, and that somewhere is populated by people who are not just fellow fans, but also content creators. It's every geek's dream, and now it's becoming a reality, courtesy of Clare Kramer and the GeekNation team.
You can visit GeekNation at GeekNation.com, and stay tuned for my future sneak peek inside the GeekNation studios.
You can follow Clare Kramer on Twitter (@ClareKramer) and GeekNation on Twitter (@GeekNation). For more from Brittany Frederick, visit my Starpulse writer page and follow me on Twitter (@tvbrittanyf).  
(c)2012 Brittany Frederick/Digital Airwaves. Appears at Starpulse with permission. All rights reserved. No reproduction permitted.