Claire Sinclair: 'I Will Not Press Charges Against Marston Hefner'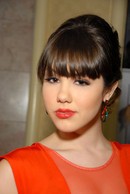 Hugh Hefner's son Marston won't face charges over allegations he attacked his girlfriend if he publicly apologizes and seeks professional help to overcome his "anger issues."

Marston Hefner was arrested at the California home he shares with Playboy model Claire Sinclair on Sunday after one of her relatives alerted cops to an alleged bust-up.

He was taken in by officers and booked for misdemeanor domestic violence, before being released on $20,000 bail.

On Monday, the model obtained an emergency restraining order against Hefner, which prevents him from coming into contact with her for three days.  She has now spoken out to reveal she won't be taking further action against him as long as he says sorry for the incident and agrees to address his problems.

Sinclair tells TMZ.com, "I don't condone domestic violence, but if one ounce of good can come from this bad experience, then I can live with it and move on. That is why I will not press charges against Marston Hefner if he keeps his word to give a public apology for physically abusing me... and seeks psychiatric help for his anger issues."

Publishing mogul Hugh Hefner has also commented on the couple's bust-up, saying, "If they care about each other, they'll patch it up."