C.J.'s Awesome Return to 'Top Chef' and the Not Awesome Cancellation of 'Last Resort'
Brittany's Blog: This is my viewpoint, from the far end of the couch...and this week, I discuss the welcome return of a favorite to Bravo's Top Chef and on the opposite end of the spectrum, the disappointing decision by ABC to axe its compelling drama series Last Resort.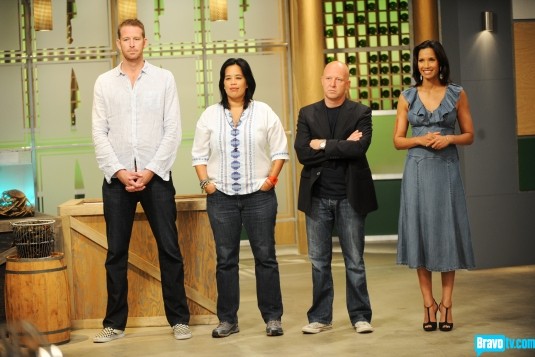 Viewers of Top Chef: Seattle were surprised on Wednesday when host Padma Lakshmi announced that three former competitors - CJ Jacobsen, Josie Smith-Malave and Stefan Richter - would be joining the current crop of hopefuls. Me? I haven't been this excited about Top Chef since...well, CJ was on Top Chef: Miami seven seasons ago.
Miami remains my favorite season of Top Chef, and that's because in addition to having great competition, there were also a multitude of personalities that made the show entertaining. It had the likes of Brian Malarkey, Dale Levitski, fan favorite Casey Thompson, and my favorite, CJ.
CJ was to Top Chef: Miami what Hugh Acheson was to Season 3 of Top Chef Masters - someone who brought both aptitude and wit to the proceedings. A lot of his humor was of the self-deprecating variety, whether it was poking fun at his height by saying he'd be "dusting the ceiling" of a boat the chefs were cooking on, or riffing on his bout with testicular cancer during the holiday special when a nutcracker was involved.
His return should balance out some of the show's overdramatic moments, like the suddenly jerky camera work and overlong pauses at judges' table. Now let's see if he can redeem himself for that broccolini misfire.
Top Chef: Seattle continues Wednesday nights on Bravo.