Cirque Du Soleil Performer Falls To Her Death During Performance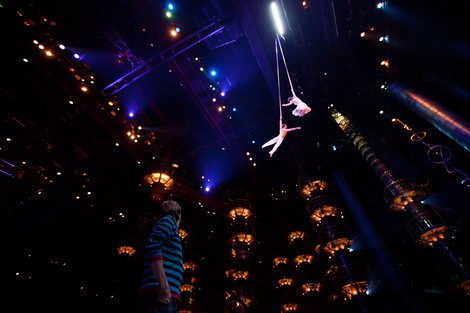 The first fatal accident in the 30-year history of Cirque du Soleil happened Saturday night when an acrobat plummeted 50-feet to her death during a performance.

Sarah Guillot-Guyard, a veteran acrobat with over 22 years of experience, fell to her death when a safety wire snapped during Cirque Du Soleil's "Ka" production a the MGM Grand in Las Vegas. The Paris-born mother of two was pronounced dead at the University Medical Center in Las Vegas.

Guillot-Guyard had reportedly been suspended in a safety harness attached to a cable during the show's climactic battle scene, during which several performers are hoisted into the air by cables. Her harness somehow got loose of the cable and she fell down into an pit below the stage, which cannot be seen by the audience. She was still wearing the harness.

Audience member Dan Mosqueda, who was at the show with his wife and 10-year-old son, told the Las Vegas Sun that the audience initially though it was all part of the act.

"(The artist) was being hoisted up the side of the stage and then just plummeted down," Mosqueda said. "Initially, a lot of people in the audience thought it was part of the choreographed fight. But you could hear screaming, then groaning, and we could hear a female artist crying from the stage."

Following the accident the curtains were lowered and audience members were quickly evacuated from the theater to the sound of a recorded announcement offering refunds or vouchers to a future show.

"The entire Cirque du Soleil family is deeply saddened by the accidental death of Sarah (Sassoon) Guyard, artist on the production 'Ka,' that happened on Saturday, June 29, in Las Vegas. The artist's immediate family has been informed of the accident. Our thoughts are with her family and the entire Cirque du Soleil family," a statement released by Cirque du Soleil on Saturday read.

Cirque founder Guy Laliberte added, "I am heartbroken. I wish to extend my sincerest sympathies to the family. We are all completely devastated with this news. Sassoon was an artist with the original cast of 'Ka' since 2006 and has been an integral part of our Cirque du Soleil tight family. We are reminded, with great humility and respect, how extraordinary our artists are each and every night. Our focus now is to support each other as a family."

The tragic accident happened shortly before the production company's new Michael Jackson tribute, "Michael Jackson ONE," debuted at the nearby Mandalay Bay Resort & Casino.

Several celebs, including the late singer's family, Neil Patrick Harris and Justin Bieber were on hand for the premiere.