CinemaCon: Sandra Bullock & Melissa McCarthy Have Fun At 'The Heat' Photocall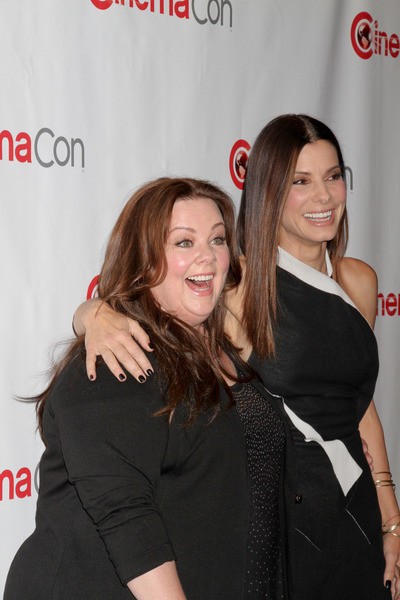 We spotted Sandra Bullock and Melissa McCarthy acting very chummy at "The Heat" photocall at Caesars Palace Hotel and Casino in Las Vegas on Thursday. The duo was at CinemaCon for a 20th Century Fox press conference to promote their upcoming film.
Sandra looked sophisticated in black pants and an asymmetrical black and white sleeveless blouse, while Melissa wore black pants, a black sweater and silver sequined blouse.
The film centers on uptight and straight-laced, FBI Special Agent Sarah Ashburn (Bullock), who is a methodical and arrogant investigator. Boston P.D. officer Shannon Mullins (McCarthy) is foul-mouthed and has a very short fuse. When these two wildly incompatible law officers join forces to bring down a ruthless drug lord, they become the last thing anyone expected: buddies.
Well, it certainly looked like the two were friends at CinemaCon. The film hits theaters in June.