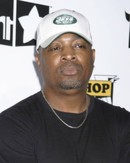 Rap icon Chuck D has turned fashion model to become the face of a California-based suit company.

The Public Enemy star has signed a deal with Naked Suits to promote the fine clothing designs and will feature in the firm's 2012 advertising campaign.

Brand manager Adisa Banjoko says, "We believe that in today's age, people are demanding both aesthetics and performance in everything from smart-phones to apparel.

"Naked Suits are for guys for whom high-performance is a way of life, from their athletic to their professional endeavors. Chuck D is that kind of man. He has influenced the music and technology world with his ideas of innovation. The Own The Moment campaign is meant to inspire people toward living that idea... We are honored to have him on deck."