Chuck Berry Honored With Hometown Statue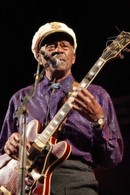 Legendary rocker Chuck Berry has been immortalized in his native St. Louis, Missouri with a statue bearing his likeness.

The "Johnny B. Goode" icon appeared at the University City Loop area on Friday to unveil the eight foot tall honor, which depicts Berry in song, hunched over his Gibson guitar.

A host of his rock 'n' roll peers sent video messages to mark the occasion, with Little Richard branding him "the greatest entertainer in the world" and Aerosmith guitarist Joe Perry hailing him as "a national treasure."

Crooner Ronald Isley was on hand to introduce Berry to the stage at the special ceremony, where the 84 year old thanked locals for the tribute and admitted he was uncomfortable with public speaking.

He told fans, "I don't know how to speak – I can sing a little bit... I'm going to say thank you again and I love you all."