Christopher Nolan's Influence Felt In Second Trailer For 'Man Of Steel'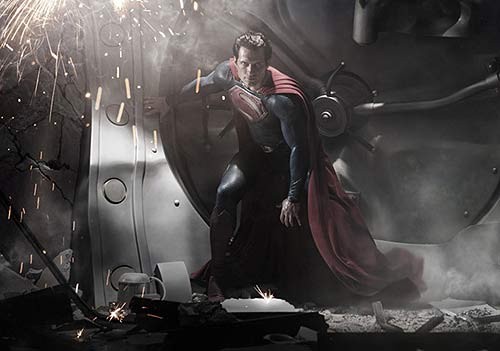 After a teaser which gave away very little about the latest Superman reboot, Warner Bros. has finally released the first big clip for Man of Steel -- and director Zack Snyder's take on the legendary superhero looks very promising!

Henry Cavill stars as Clark Kent/Superman in the film and the new trailer feels a little more like Christopher Nolan The Dark Knight trilogy than the classic Christopher Reeve Superman films, which is to be expected since Nolan produced the upcoming film.

Most people know about Superman's origins -- he came to earth from the planet Krypton and grew up as the adopted son of Jonathan and Martha Kent in rural Illinois, learning who he is and how to use his super powers. That background is touched on in the new trailer with glimpses of a young Clark growing up and wondering who he is and how to cope with and keep his powers a secret.

Cut to a grown up Clark, who asks where he comes from and what his purpose is before all the action begins.

Lots of chaos destruction ensues, along with a blink-and-you-missed it shot of bad guy General Zod.

Kevin Costner, Diane Lane, Amy Adams, Laurence Fishburne, Russell Crowe, Julia Ormond and Michael Shannon also star in the film, due in theaters June 14, 2013.

Check out the trailer below...


Here's the first one...