'Christmas Vacaction' Is Favorite Holiday Movie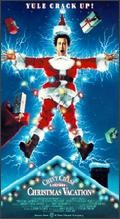 National Lampoon's Christmas Vacation
is the top pick among holiday movie renters. When Americans watch holiday movies, they love to laugh and be jolly. Comedies are overwhelmingly the top rental choice among holiday-themed films by Blockbuster members.
According to a Blockbuster survey, 80 percent of respondents said movies are a great way to relax from the stress of the holidays. Sixty-eight percent said movies get their family in the holiday mood. The only non-comedy choice was
It's A Wonderful Life
, the uplifting 1946
Frank Capra
classic starring
James Stewart
and
Donna Reed
.
Top Holiday Movie Rentals:
1.
National Lampoon's Christmas Vacation
2.
The Santa Clause 2
3.
Dr. Seuss' How The Grinch Stole Christmas
(2000)
4.
Home Alone
5.
A Christmas Story
6.
The Santa Clause
7.
Jingle All the Way
8.
It's a Wonderful Life
9.
The Nightmare Before Christmas
10. "The Simpson's Christmas 2"
For more exciting holiday movies, check out the
STARPULSE CHRISTMAS MOVIE GUIDE
.