Christine Scott Bennett on Her 'Big Break' with 'The Inbetweeners'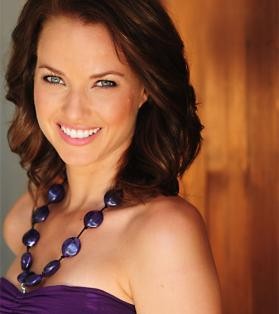 MTV's The Inbetweeners has arrived: a stateside adaptation of the popular UK comedy centered around four teenage boys being teenage boys. It sounds like familiar territory, but actress Christine Scott Bennett would like you to know that the show's a lot more than just your average coming-of-age laugher.
"I think it's really important that people give it a chance," she said. "I think sometimes people get the wrong impression of advertising and such. This show is genuinely a funny show and it has heart to it, too. [It] has got a little bit of The Wonder Years in it and I kind of love it for that."
Having stumbled into acting after a modeling career, Christine explained that she's always looking for a part that she can connect to. "I feel like you need a connection to that character for whatever reason," she told me. "It's hard to explain what that is and it probably has to do with a lot of life experience: if you've gone through something similar or you know someone who's gone through something similar. Have I gone through this before or can I relate?"
That includes her role on The Inbetweeners, as the unquestionably cool mom to Will (Joey Pollari) and object of his friends' admiration. The kids that Polly puts up with are the ones Christine could also understand. "To be honest, I was an inbetweener," she explained. "It was an uncomfortable time in life. Even the popular kids are still insecure. Looking back now, if I could have known then that everybody else was the same...if everybody knew that life would be so much easier in high school.
"I just felt like it would be helpful if I could be a part of a show to explain to this generation that we're all nerds and we're all doing stupid things and we're all uneducated in certain areas."
Of course, playing the mother to a main character does make her feel a little older, but she's perfectly fine with that, too. "I'm a bit older than most of the kids on the show, and I've never felt old until I started shooting this show," she laughed. "I've learned so much from these kids. They couldn't be my kids, but there's still a huge generational gap. I'm having a good time with it, because I'm exploring a different side of myself. I think it's fun."
In developing the role of Polly Mackenzie for herself, Christine largely steered clear of the original British series. "I watched one episode just to get the vibe," she explained. "I kind of avoided it just because I didn't want to copy. Sometimes when you see things, you don't mean to copy but it's already in your head and it comes out like that."
"It's an amazing show and it's wonderful and they gave us our start, and we're respectful of that," she added, aware that the original series has a loyal following of fans who might take awhile to warm up to the American version. "A lot of the people on the other side of the pond are a little bit frustrated with us and I can understand that, because they're very proud of their show. I would just hope that they're open [minded] because we kind of put our own spin on it."
Whether or not the MTV show is as successful as its predecessor, Christine said that she's vastly enjoying the experience of being part of it. "This is really like my first big break, so I'm pretty excited," explained the actress, who has previously appeared in guest roles on shows like Boston Legal and How I Met Your Mother. "I've made some really good friends. I know that they're going to be lifelong friends, and for that I'm amazingly thankful. I'm going to the VMA's and how exciting is that? [And] seeing yourself on TV with these people that you just think are brilliant. It's kind of a surreal experience. What I'm trying to take from all of this [is] enjoy the moment, because it's not going to last forever."
What gets her to turn the channel? "I tend to be the romantic comedy nerd," she said. "I like action, and there's certain ones that are really fantastic, but I love the romantic comedies. I think it happens because growing up I watched Pretty Woman over and over again. Because of that, I tend to be drawn to them, and people like Sandra Bullock and Julia Roberts, I love. They're able to be quirky and relatable and hilarious and stupid sometimes too." Not unlike the foursome of teenage boys The Inbetweeners has now unleashed on MTV's Monday night airwaves...
The Inbetweeners continues its season tonight at 10:30 PM ET/PT on MTV. Watch a clip from tonight's episode below.
You can follow Christine Scott Bennett on Twitter (@ChristineScottB). For more from Brittany Frederick, visit my Starpulse writer page and follow me on Twitter (@tvbrittanyf).
(c)2012 Brittany Frederick/Digital Airwaves. Appears at Starpulse with permission. All rights reserved. No reproduction permitted.