Christine Ebersole Adds To The Laughs On 'Sullivan & Son'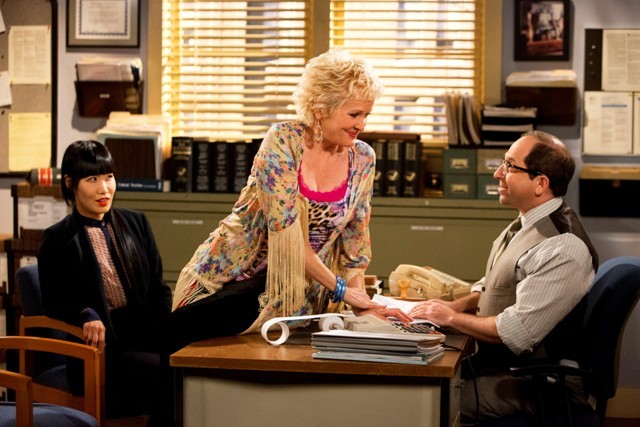 As Carol Walsh on TBS's Sullivan & Son, Christine Ebersole has kept us laughing with well-meaning but perhaps ill-advised antics. Yet underneath Carol's fearless exuberance is a two-time Tony Award winner with decades of talent. BFTV snagged a few minutes with Christine on Thursday to chat about how she finds the laughter - and what it's like when she gets serious.
"I just basically sort of approach it as, she's a fun-loving, kind of free spirit who is very kind of innocent in a way," she said of Carol, the bar regular who's never short of a smile or a flirtatious comment. "[She's] not jaded, enthusiastic, and gung ho about life."
Carol's son Owen is played by comedian Owen Benjamin, and Christine told us how much she enjoys working alongside him. "He's awesome. I love him," she said, adding that "The whole cast is amazing. It's such a great gift to have such a great group of people that really get along and really have fun."
Sullivan & Son also served as a reunion for Christine and co-star Brian Doyle-Murray, with whom she worked on Saturday Night Live in the early 80's; the pair co-anchored Weekend Update together in the 1981-1982 season. She wasn't aware he'd be playing fellow regular Hank Murphy when she signed onto Sullivan & Son. "I found out," she said with a laugh. "I didn't know. It's great. I hadn't worked with him in 30 years."
Yet the character of Carol is just scratching the surface of what Christine has done over an impressive career. She earned two Best Actress Tonys in 2001 and 2007, has recorded a few albums, and has been seen in countless films and TV guest roles. On a rare occasion, she even gets serious. Take, for example, the 2008 Law & Order: Special Victims Unit episode "Smut", where she played the defense attorney for a serial rapist (played by our fave Michael Trucco). It's a shock not seeing her crack a joke.
"That was fun. That was a really great experience. I really enjoyed doing it," she said, but confided that she's partial to comedy. "I think doing dramas kind of wear on you," she continued. "It's just intense. I was really appreciative to do that episode, but I wonder how that would affect an actor that is doing that day in and day out. I can't imagine, because I never did them except for one episode, but I just am really glad I get to spend all day laughing."
At the moment, she's taking on another very un-Carol-like role in another show you might not expect to see her on. "Right now I'm in New Orleans doing American Horror Story," she revealed. "So that's quite a departure from Sullivan & Son!" The third season of AHS, entitled Coven, will hit FX on October 9.
But don't worry, she'll also be coming back to the bar. While we wait for the third season of Sullivan & Son - the show was renewed by TBS earlier this week - we asked Christine how she thought her long-running career in comedy first clicked. "It's really more a passion," she explained. "I decided when I was funny, that's what I wanted to do. I kind of always thought that was my career, even when I was working as a waitress.
"I thought my family was really funny," she added. "Everybody in my family was funny. My mom and dad both have great senses of humor and really saw the funny in stuff, so I think that's probably where it came from. I always try to see the funny in things." And for decades, this talented and classy lady has done a marvelous job of getting us to see it, too.
Sullivan & Son airs its season finale tonight at 10 PM ET/PT on TBS.
(c)2013 Brittany Frederick. Appears at Starpulse with permission. All rights reserved. No reproduction permitted. Visit my official website and follow me on Twitter at @tvbrittanyf.