Christina Masterson Is The New Pink Ranger On 'Power Rangers Megaforce'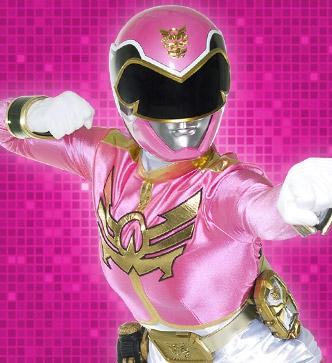 Nickelodeon has another new team of Power Rangers on the airwaves. Power Rangers Megaforce, which began airing on the network in February, picks up where Power Rangers Super Samurai left off, with new teenagers as the next versions of the popular superheroes. The current Pink Ranger is Emma Goodall, and she's played by model-actress Christina Masterson, who recently spoke with BFTV about joining the franchise and her own history with the Power Rangers fandom.
"Power Rangers has been a great opportunity for me," she said, "because through my character I'm able to reach kids and help teach them about friendship, teamwork and helping others. The first season my character talked a lot about pollution and how it effects the environment. I think that is such an important subject to expose to kids these days. To be their role model and influence their lives in a positive way makes me feel like I've made the right decision [to become an actress]. It's truly an honor and a huge responsibility."
Christina first dabbled in acting while traveling the world for modeling gigs and commercial shoots. "A few years back I did a Levi's commercial called 'First Time' and at the end, director Fredrick Bond looked at me and said 'You should act,'" she explained.  "That whole experience made me think acting was a real possibility. It definitely ignited the flame."
She eventually decided that she wanted to make acting her focus, and came into the opportunity to join Power Rangers - though not initially for the role she ended up playing. "I actually auditioned for the Ye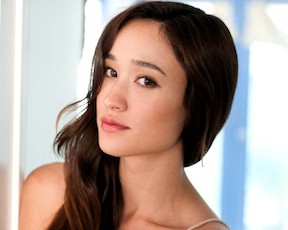 llow Ranger going in and out for about about three months," she revealed. "I found out I was the Pink Ranger when my manager called me to tell me I booked the job!"
The actress shares her character's affinity for nature. "I'm a nature girl and I love road trips and exploring new places," Christina explained. "I'm getting into woodworking and flower pressing. I have an obsession with cabins, tree houses, teepees and yurts… for some reason they make my heart melt. I also really love music."
As far as what's ahead on the show, "I'm excited for the audience to see episode six, 'Harmony and Dizchord,'" she continued, "because you learn a little more about Emma and she exposes a special talent that I've always wished I had." That episode is scheduled to air next Saturday, March 9.
Her role on Power Rangers Megaforce wasn't Christina's first exposure to the Power Rangers: "I did watch the original Mighty Morphin and it will always be my favorite one," she added.
What else interests the up-and-coming young actress? "My favorite TV show right now is Girls. Blows my mind every time I watch it and Lena Dunham is just crazy talented," she said. "One of my dream roles would to be a character in a David Lynch movie. To work with him is absolutely a goal of mine."
For now, she's enjoying getting to play a Saturday-morning superhero. What's the best part of being a Power Ranger according to Christina? "Being able to play a super hero and save the world every day!"
Power Rangers Megaforce continues today at 1 PM ET/PT on Nickelodeon. You can watch the trailer for the series below, courtesy of PRSamuraiCast on YouTube.
(c)2013 Brittany Frederick. Appears at Starpulse with permission. All rights reserved. No reproduction permitted. Visit my official website and follow me on Twitter at @tvbrittanyf.