Christina Aguilera's Curvy Figure & Draped Gown At The AMAs Land Her On Several 'Worst Dressed' Lists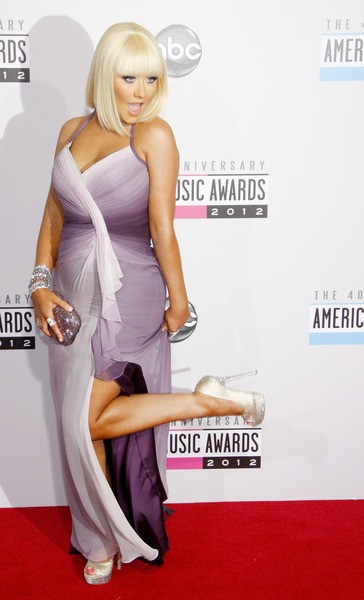 Christina Aguilera walked the red carpet and performed at the 40th Annual American Music Awards in Los Angeles on Sunday. The singer wore a Pamela Roland purple gown that left a bad taste in several critics' mouths.
VH1 called her look "far too tight" and slammed her for ladling on the make-up.
Liz Brown of The Examiner wrote, "What was a fashion disaster was the low-end yellow Cleopatra wig she slapped on for unknown reasons."
British publication the Mail Online wrote about the pop diva: "Christina, 31, sporting a very orange fake tan, squeezed her generous curves into a tight-fitting purple wrap-around dress, split to the thigh."
Fox News perused Twitter and found several negative tweets from AMA viewers including: "Did Christina Aguilera eat one of Willy Wonka's blueberries?"
Ouch!
But there were also some lovers among the haters, and a writer at Terra.com called the singer's bodysuit stage costume "a tight, sexy black get up."
Check out Xtina's looks on the following pages...