Christina Aguilera Planning Another Spanish-Language Album?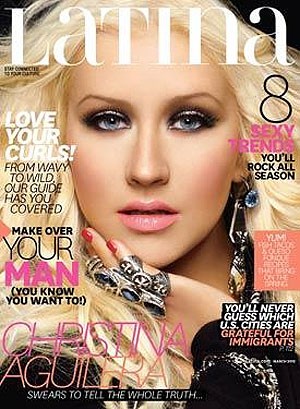 Christina Aguilera defends her Latin heritage & takes on critics of her marriage in the March issue of Latina Magazine.

The sexy singer lshes out at her naysayers in the new issue, revealing that she often gets criticized for 'not being Latina enough' and getting married too young.

"I've dealt with that [criticism] my whole life," she says. "I don't speak the language fluently. And I'm split right down the middle, half Irish and half Ecuadorean.

"I should not have to prove my ethnicity to anyone. I know who I am."

Christina is currently getting ready for the season two premiere of her hit show The Voice, which premieres after the Super Bowl on February 5th; and she's also planning her second Spanish-language album.

"I wouldn't be questioned [about my heritage] if I looked more stereotypically Latina. Whatever that is. All I know is no one can tell me I'm not a proud Latina woman...I dove headfirst into a Spanish-language album for that reason and I'm planning another one even though I don't speak the language. I'm sure that doesn't sit well with some people," she says.

Christina says she doesn't read what people are saying about her - whether it's negative or positive, but she does have one thing to say to anyone who thinks she got married (and divorced) at too young an age.

"Was I too young? Not at all," she says. "I did the exact right thing at the time... I definitely wasn't too young. I have always been older than my age."

See more of Christina in the March 2012 issue of Latina magazine, which hits newsstands February 14th.


Also in the March 2012 issue:
-Star Styles: Celebrity fashion lines from Sofia Vergara, Jennifer Lopez, Kat Von D, and Daisy Fuentes.
-Celebrate Your Curls!: Beauty Editor Kate Sandoval shares the secret to embracing your natural texture-whether wavy, kinky or frizzy.
-Fun and Wearable Spring Looks: Fashion Editor Verky Arcos picks the 8 hottest trends of the season
-Safe Havens for Immigrants: Harsh new laws in Arizona and Alabama may be driving out immigrants, but cities like Dayton, Ohio, and Chattanooga, Tennessee, are welcoming them as a stimulus to their recession-weary economies.