Christina Aguilera Denies She Passed Out In Jeremy Renner's Bedroom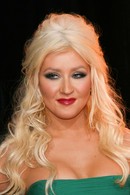 Christina Aguilera has blasted gossiping party goers for spreading negative rumors about her after she was accused of drunkenly falling asleep on Jeremy Renner's bed at a house party to celebrate the actor's birthday.

The Hurt Locker star turned 40 in January and threw a big party with a host of Hollywood pals in attendance.
Aguilera allegedly gate crashed the bash with film production assistant boyfriend Matthew Rutler, and became so inebriated; she passed out in Renner's bedroom.
 
However, the pop star insists she did nothing wrong - and she blames nosy gossipmongers for turning the night out into a big deal for no reason.
 
She tells W magazine, "Matt was the one who was invited. I went as his girlfriend. It was an open party, and everyone was spread out all over the house. At one point I sat on the edge of the bed. It was a guest room. But it only takes one person to start the negativity, and then everyone wants to hop aboard and continue the story."